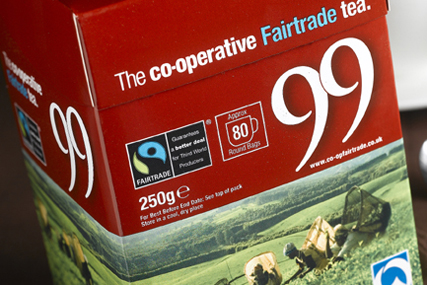 The Co-operative claims that following its acquisition of the Somerfield supermarket chain, completed last year, it will be its biggest Fairtrade fortnight. The company says that the acquisition could boost annual Fairtrade sales by £40m.
In 2008, as part of its Food Ethical Policy, The Co-operative became the first retailer to convert its entire own-brand hot drinks category of tea, coffee and hot chocolate to Fairtrade. It has now introduced its Fairtrade hot drinks range into Somerfield stores, along with many other lines as part of the integration process.
The Co-operative's activity centres on 'The Big Swap' theme in an attempt to encourage consumers to switch their usual products for ones carrying the Fairtrade Mark. The retailer is also offering up to 20% off selected Fairtrade products at Co-operative and Somerfield stores, including 99 Tea.
The Co-operative has also said that it will spend an additional £500,000 on Fairtrade development projects in 2010.
Peter Marks, group chief executive at The Co-operative said: "The Co-operative has led the way on Fairtrade, having championed the Fairtrade Mark since its inception, and our pioneering development work has helped the UK become one of the largest Fairtrade markets in the world."
The Fairtrade foundation was established in 1992, with the first products to carry the Fairtrade Mark appearing in 1994.
Earlier this week, Sainsbury's claimed it had become the "world's largest Fairtrade retailer", following a 10% rise in sales to £218m over the past year.