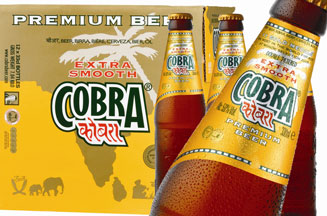 The move, revealed by Marketing (10 June), comes as a result of Molson Coors' acquiring a majority stake in the brand at the end of May from Karan Bilimoria. Today marks the official launch of the joint venture, the Cobra Beer Partnership.
Bilamoria's team had tried to move the beer away from its Indian positioning. It had attempted to link the lager to pub banter through a number of marketing initiatives, including a sponsorship deal with Dave.
However the brand is now lining up activity which returns it to its Indian restaurant heartland, including the sponsorship of National Curry Week in November and the Brick Lane Curry Festival. It has yet to confirm further activity.
Under the new management, it is axing its light variant and reviewing the future of its Cobra Bite range in conjunction with the BitterSweet Partnership, Molson Coors' business unit designed to encourage women to drink beer.