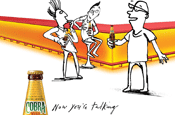 The Now You're Talking campaign will be backed by an £8.4 million media spend, including outdoor, press, cinema, online and, later this year, TV.
The strapline is based on the idea that Cobra is less gassy than other beers, so doesn't bloat you or get in the way of conversation.
Will Ghali, the marketing director, for Cobra Beer, said: "On-trade drink preferences tend to influence off-trade purchasing, so our thinking is that consumers will try Cobra in pubs and then also consider it when buying in the off-trade."
Outdoor activity will be focused on London, Birmingham, Edinburgh, Liverpool and Manchester.
Cobra, one of the UK's fastest-growing beers with a growth rate in excess of 30 per cent, has this year set out plans to become a top-ten premium lager brand in the next three years.