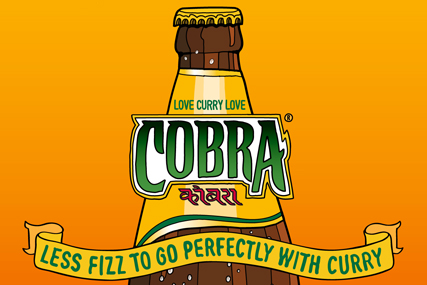 The ad campaign, which spans press and radio, aims to cement the association with curry that Cobra has been building up since its acquisition by Molson Coors last year. Prior to this, it has sought to position itself as a mainstream lager through activities such as the sponsorship of Dave's prime-time programming.
Created by Beattie McGuinness Bungay, with media planned and bought by ZenithOptimedia, it focuses on the three elements of a great curry night, which it identifies as "Cobra, curry and company".
The radio ads feature the familiar voice of Sheridan Smith, star of 'Two Pints of Lager and a Packet of Crisps' and the musical, 'Legally Blonde' .
The ad campaign will be supported by a series of advertorials to give curry fans the perfect excuse to have a curry night.
Other activities planned to strengthen Cobra's affiliation to curry in 2010, include advertising on 118 118 texts when consumers request details for a local curry restaurant or takeaway, and tapping into its Facebook group "We Love Curry".
The group currently has more than 75,000 fans, with Cobra planning additional activity to build the fanbase further.
Cobra's Brick Lane Curry Festival, in London's curry heartland (running until 4 June) is in its tenth year, while the Cobra Beer Partnership is also set to support an event in June celebrating 200 Years of the Curry House, as well as National Curry Week in November.
The advertising launch comes as Cobra brewing begins at Molson Coors' flagship brewery in Burton, a year after the completion of Molson Coors' acquisition of the brand.
Kevin Wallace, brand director, Cobra Beer Partnership, said: "We see Cobra as an integral part of the curry night experience.
"For years, Cobra has been synonymous with British curry houses – we want to build on this association and make Cobra part of the curry night experience, whether enjoyed in restaurants or at home."