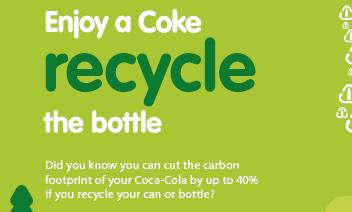 The 'Keep it Going. Recycle' campaign supports Coca-Cola's investment in a scheme to create branded 'Recycle Zones' across the UK. The zones are already operating in destinations including Thorpe Park and Manchester Airport with a new zone opening 22 September in Southampton's City Centre.
The campaign was created as a result of research undertaken by Coca-Cola in partnership with the Carbon Trust which showed that packaging accounts for the largest proportion of a drink's carbon footprint.
Activity also supports the soft-drinks giant's efforts in making packaging from more recycled material and less material overall. Its aluminium cans now contain around 50% recycled content, weigh 5% less.
Sanjay Guha, president of Coca-Cola GB, said: 'We believe that increasing recycling levels is one of the most effective steps we can take in achieving our overall goal of operating in a responsible way. Sustainability is at the heart of everything we do - without sustainable, healthy communities we won't have a sustainable business. Which is why, as well as taking action ourselves, we're committed to helping consumers to do their bit as well.'