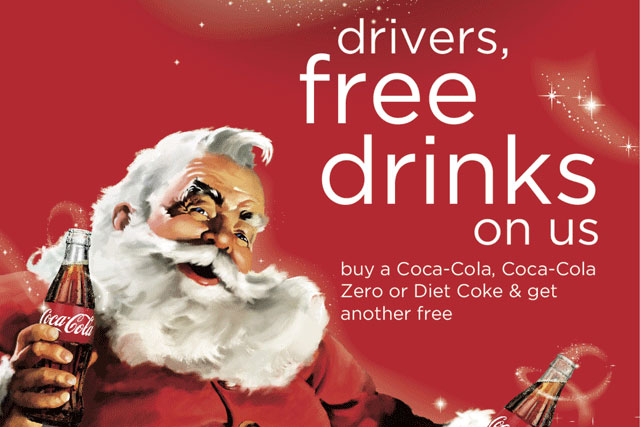 The campaign, which has been run during the festive season for the past three years, offers consumers a buy-one-get-one-free deal across Coca-Cola and Diet Coke, supported by digital and point-of sale-activity.
The campaign is further supported by activity with the Department for Transport's 'THINK!' campaign for road safety.
It launches tomorrow (9 December) and will run until 31 December, across 8,000 UK pubs, bars and clubs, positioning the soft drinks as an alternative to alcohol. Designated drivers can speak to staff at venues to receive vouchers for free Coca-Cola drinks.
Consumers can find the participating pubs through an online "pub finder" tool on www.coca-cola.co.uk and www.cokezone.co.uk, as well as a dedicated mobile site.
The campaign will also have support from the AA, the Association of Chief Police Officers, Road Sage, the RAC and the National Union of Student Bars. Partnerships were brokered by 23red , the DfT's partnership agency.
Jon Woods, general manager, Coca-Cola Great Britain and Ireland, said: "Designated drivers provide an amazing service to friends and family. They allow people to have a good night and also help keep roads safe, so everyone can enjoy the Christmas period.
"By rewarding drivers who choose not to drink with a free Coca-Cola or Diet Coke, we hope even more people will be encouraged to do the right thing and become responsible drivers."
Last month, Coke re-released its seasonal 'Holidays Are Coming' campaign, which also saw the return of its "snow-globe" ad put to a new pop song by Natasha Beddingfield.
llow Loulla-Mae Eleftheriou-Smith on Twitter @LoullaMae_ES