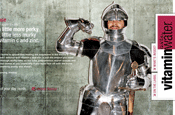 The successful agency will take on all the above-the-line advertising for the water brand in a number of inter¬national markets.

It is understood that the global Glaceau campaigns will attempt to differentiate the product, which has six variants containing vitamins, minerals and herbal extracts, from other vitamin-enhanced water brands.

Glaceau launched in the UK this summer, but Coca-Cola is yet to roll out any significant marketing activity for the brand in European markets.

The brand, which competes directly with PepsiCo's V Water, has built a strong presence in the US market since it launched there eight years ago.
Its first TV campaign broke in the US last year, featuring various sports stars and the rapper 50 Cent.

Coca-Cola acquired Glaceau in May 2007 as part of its $4.1 billion purchase of the US drinks company Energy Brands.

The global pitch follows Pepsi's appointment of CHI & Partners to handle the UK relaunch of V Water in June.