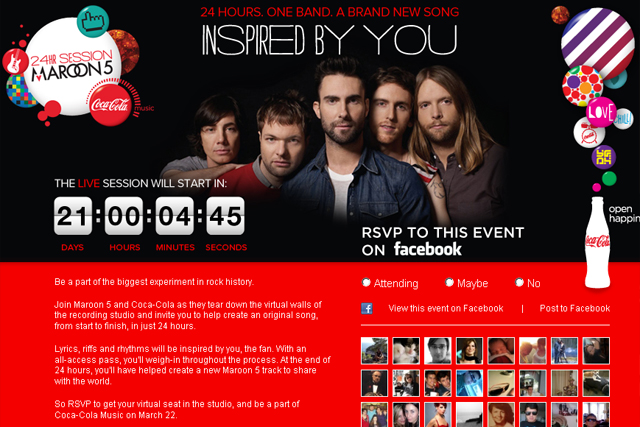 Fans of the group and the fizzy drink will be able to watch the band, locked away in a recording studio in London at www.coca-cola.com/music, and contribute to the creative process.
Joe Belliotti, director of global entertainment marketing for Coca-Cola, said: "Coca-Cola has a long history of using the power of music to bring people together from around the world, in the most relevant and compelling ways.
"This is the most ambitious and experimental effort in music Coca-Cola has ever undertaken. For the 24-hour session, we are deploying and developing new and emerging technologies to allow as many people as possible to be part of the event and gain insight into the creative process that goes into making great music."
Wieden+Kennedy will produce the session streaming. It will mesh social media together with the event to create an effect that "feels part video game, part pop video and part reality TV show."
Throughout the 24-hours, fans will be asked to send in words, pictures and comments to inspire the creation of the song. Followers will be able to ask the band questions and can help to make critical decisions by voting for different options put to them by the musicians.
Adam Levine of Maroon 5, said: "The band all remembers when we were younger and making music in our bedrooms, trying to imitate our heroes. To be part of something global like this that gives an insight into what happens behind closed doors is really exciting."
Fans can participate through the Coca-Cola Facebook page, and @CocaCola Twitter feed. Bloggers from 20 countries have been hired to monitor events.
Coca-Cola's Zero brand has been gaining sales on rival Pepsi's Max.