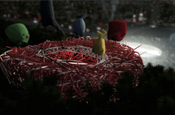 The global drinks giant came top in the the CSM Media Research Olympic Performance index.
The index measures the entire marketing performance within China of brands before, during and after the games.

Matthew Brosenne, business development director at CSM, said: "Coca-Cola sees these Olympics as a rare opportunity to position Coca-Cola as China's most aspirational brand.

Coca-Cola is winning because it started early, has shown good strategic planning and regularly refines its work."

CSM collated the index through a quarterly poll of 1,500 consumers in 10 Chinese cities, analysis of the creative treatments of Olympics advertising in China, media spend and measurement of China's TV audiences.

A final wave of research will be released in October.

CSM is the Beijing-based partner of TNS.