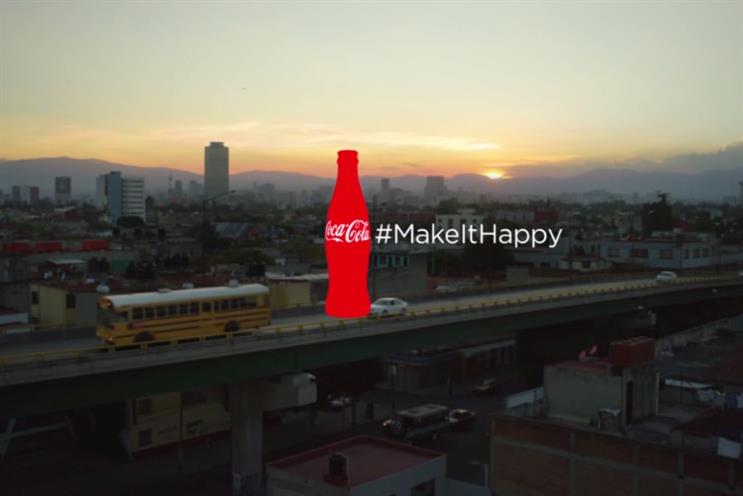 The campaign was part of Coca-Cola's Super Bowl advertising. It encouraged Twitter users to tag negative tweets with the #makeithappy tag. The drinks brand would then automatically turn those tweets into positive ASCII art images.
Gawker spotted an initial prank from another Twitter user, which resulted in Coca-Cola turning a white supremacist slogan into an ASCII image of a dog.
Editor Max Read wrote: "Even when the text is shaped like a dog, it is disconcerting to see Coca-Cola, the soda company, urge its social-media followers to safeguard the existence and reproduction of white racists. Is Coca-Cola a white nationalist organization? Its Twitter says: Yes."
It then created the @MeinCoke Twitter bot to inundate Coca-Cola with passages from Hitler's Mein Kampf.
It resulted in 13 Hitler-themed ASCII pictures, variously showing an anthropomorphised burger, a giant smiley, and a drumming cat in sunglasses.
Coca-Cola eventually cottoned on and suspended its campaign. A spokesman told Adweek: "The #MakeItHappy message is simple – the internet is what we make it, and we hoped to inspire people to make it a more positive place.
"It's unfortunate that Gawker is trying to turn this campaign into something that it isn't. Building a bot that attempts to spread hate through #MakeItHappy is a perfect example of the pervasive online negativity Coca-Cola wanted to address with this campaign."
Why is @CocaCola tweeting Mein Kampf? (Because we asked it to) http://t.co/vAcWrJG7o2

— Gawker (@Gawker) February 4, 2015