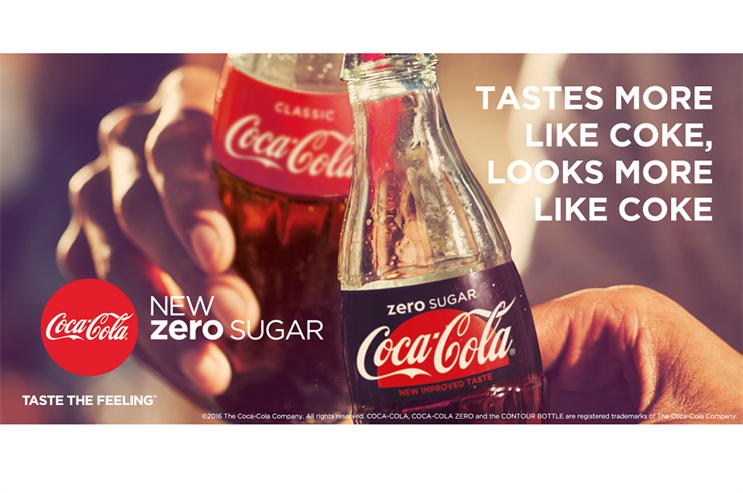 The brand says it will deliver its "biggest ever" experiential campaign to encourage consumers to try the new recipe drink.
At the heart of the campaign will be an experience featuring a five metre tall replica of the iconic Coca-Cola Zero Sugar contour bottle which will tour the UK this summer as part of a national sampling programme.
In London, people will be able to try the new soft drink at events including Coca-Cola sponsored screenings as part of the Barclaycard Presents British Summer Time in Hyde Park and a pop up 'Coca-Cola Zero Sugar photo booth' at Camden Beach Bar.
This week (7-9 July), a pop-up Zero Sugar Taste Lounge will open at 7 Rathbone Place in London from 11am to 6pm daily, offering fans the opportunity to sample the new recipe in a sensory experience designed to be the perfect setting to enjoy the drink.
A series of zones will ignite the senses; from a striking halo effect bar, to a refreshing soundscape reflecting the unique sounds of the perfect serve of Coke. Visual displays will depict the bubbles and liquid that combine to create the iconic Coke experience.
People will be encouraged to join the interactive experiences by creating and sharing personalised moving content at the events, and participate in the #TasteTheFeeling conversation across social channels.
In store, consumers will be encouraged to try Coca-Cola Zero Sugar through promotional and sampling activity.
The launch of Coca-Cola Zero Sugar is the brand's biggest new product campaign in a decade, and is the latest action to result from the company's £30m reformulation and new product development programme. All marketing activity, from advertising to experiential, will be focused on making consumers reconsider their view of sugar free soft drinks and try the new product.
Jon Woods, general manager, Coca-Cola Great Britain said: "We know that millions of people across the UK love the taste of Coca-Cola Classic so we're excited to unveil the new Coca-Cola Zero Sugar.
"As well as ensuring it tastes great we're putting our biggest marketing investment in a decade behind this launch and throughout the summer we'll be encouraging people to choose no sugar."
Comment below to let us know what you think.
For more activations and experiential campaigns in London, download our latest report, London's Experiential Playground.