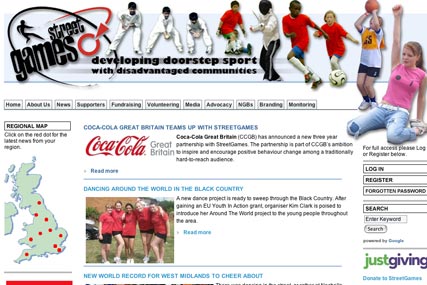 The soft-drinks company is making a large donation to StreetGames, the UK charity that helps to make sports accessible to young people, especially within disadvantaged communities.
Coca-Cola has not said how much money it is investing in the charity, but has confirmed that it will allow StreetGames to create a programme of 300 "Neighbourhood festivals" that will reach 46,000 young people.
In addition to this, StreetGames will also launch its first Sport for Change Training Academy, employing 100 tutors and creating 11 new training courses, with the aim of training about 6,000 coaches.
The donation will be enough to fund the specified projects for the next three years.
Jon Woods, country manager of Coca-Cola GB and Ireland, said: "Making sports and activity an enjoyable part of everyday life is crucial for the long-term health and vitality of our nation, but there are so many other benefits to playing sport: increased confidence and self-esteem, better teamwork skills, and stronger community cohesion.
"By working with communities through projects like StreetGames we hope we can help consumers live more active lifestyles. By drawing on the appeal of the Olympic Games and the popularity of our many brands, our ambition is to encourage positive behaviour change among a traditionally hard-to-reach audience."
Hugh Roberston MP, minister for sport and Olympics, launches the collaboration between the soft-drinks company and the charity later today (14 October), at the Edward Woods Community Centre in Shepherds Bush, London.