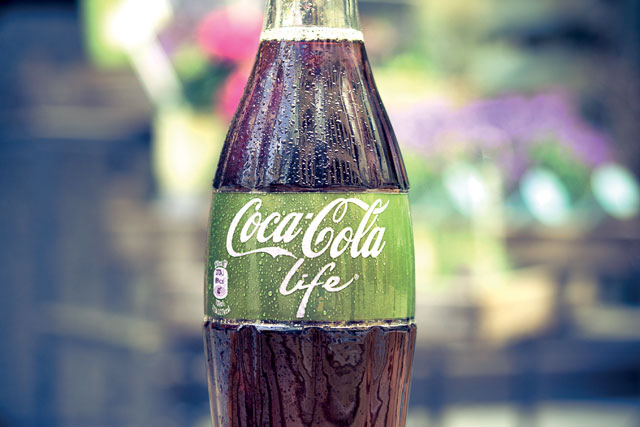 Coca-Cola Life is a lower-calorie cola sweetened with a blend of sugar and Stevia, offering a third less sugar and a third fewer calories than red Coke.
The firm has been trialling the green-labelled product in Argentina and Chile. Its introduction to the UK marks the first new Coca-Cola variant in the market since the launch of Coke Zero eight years ago.
A marketing campaign announcing the product's arrival is expected in the coming months.
Jon Woods, general manager, Coca-Cola UK and Ireland, said the new variant forms part of Coke's wider £20m investment in anti-obesity projects. Woods argued the introduction of Coke Life will allow consumers choose a Coke drink which "best suits their lifestyle".
He added: "We recognise that many people want to reduce the sugar and calorie content of the drinks they enjoy, while still enjoying the taste. Over recent years we have innovated to reduce the calories in Sprite, Fanta, Dr Pepper, Lilt and Oasis, alongside providing a zero calorie version of every main brand in our portfolio.
"We are committed to working with others across society to promote well-being and help address the public health challenge of obesity. As part of these efforts, we've taken steps to provide consumers with more drink choices, including more lower calorie drinks and smaller pack sizes as well as a significant investment to support programmes to help people become more physically active."
Coca-Cola Life cans arrived in the Marketing office yesterday (20 August) – see our verdict below.
Very exciting - some Coca-Cola Life has arrived in the office! We'll give you our verdict later today :) pic.twitter.com/dlcNPM8Gmx

— Marketing Magazine (@MarketingUK) August 20, 2014
It's the moment you've been waiting for - our very own @rachelmrbarnes & @gemma_charles try out new Coca-Cola Life! pic.twitter.com/bdd86ivSbR

— Marketing Magazine (@MarketingUK) August 20, 2014
The verdict? Definitely lighter than usual Coke, the Coca-Cola & Diet Coke devotees seem unswayed but positive noises from the team :)

— Marketing Magazine (@MarketingUK) August 20, 2014