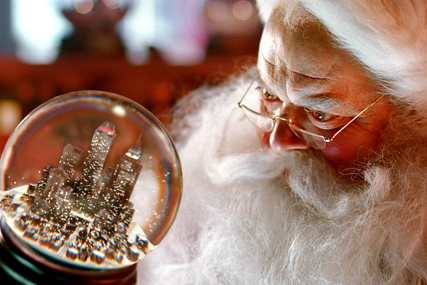 The first ad will air from 12 November for a month, before the new ad, which has been created by McCann in Madrid, makes its debut on 13 December.
"Snow globe" depicts a number of people who are clearly lonely and away from loved ones: a young man working late in a grocery store; a couple sitting on opposite ends of a park bench; and a lonely dog in an alleyway.
The camera pulls out and reveals that the characters are in a glass snow globe sitting on Santa Claus's workshop desk. Santa, who is knocking back a Coca-Cola, picks up the globe and tips it, at which point the song 'Shake Up Christmas' by Train starts playing.
The movement causes the Coca-Cola delivery trucks to roll into action and bring the couple on the bench together and sends the grocery clerk tumbling into a shopping cart trolley and through the streets, busting through the front door of his home, where his family, and the lonely dog greet him.
The TV ads will be supported by outdoor and cinema advertising and a digital "Snow globe" format. Coca-Cola is also launching a partnership and on-pack promotion with Xbox Kinect, an interactive digital platform, while for the first time it is bringing the lorry that stars in its "Holidays are coming" ad, created several years ago by Doner, to the UK.
Zoe Howarth, Coca-Cola GB's market activation director, said: "Coca-Cola Great Britain has a rich heritage in creating fantastic Christmas campaigns that create anticipation and reward. This year we're delivering a festive stocking full of iconic assets and exciting new executions.
"Our campaigns old and new are synonymous with the festive season and 'Holidays are coming' signals the start of Christmas for many. We're looking forward to shaking things up with our new 'Snow globe' TVC campaign, bringing a little slice of Christmas happiness and rewards to consumers across the UK thanks to a multiple touch-point campaign and significant brand investment."