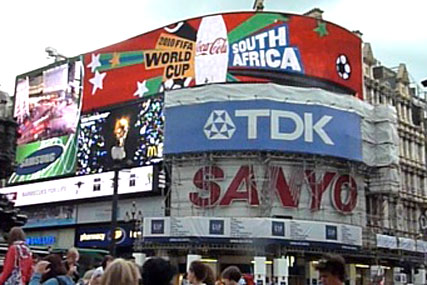 Launching today, the activity builds upon the Coca-Cola "What's Your Celebration" Fifa World Cup campaign in which the animated sign displays personalised messages.
The messages call for people in Piccadilly Circus to perform live dramatisations of their goal celebrations on a pop-up Astroturf pitch.
Members of the public who take part in the activity will be filmed and then shown on the iconic sign.
The activity, which has been created by design agency Sedley Place, will take place in the run-up to the tournament's final on 11 July.
Alongside the goal celebration footage, the sign also acts as a live score board and Fifa World Cup news ticker, giving up-to-the-minute football results and updates.
The soft-drinks giant launched its global World Cup marketing campaign in April. Created by ad agency Santo, the activity featured Cameroon star Roger Milla.
Nick Robinson, Coca-Cola director North West Europe and Nordics said: "We're delighted to be bringing the 'What's Your Celebration' message to the world famous Coca-Cola Piccadilly Sign, revealing the first interactive activity of its kind and creating a direct dialogue with the public.
"The activity plays on people's passion and energy, bringing the anticipation and celebration surrounding the tournament from the pitches of South Africa to the streets of London."