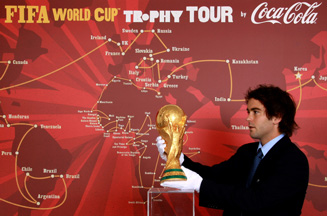 The activity will give fans outlets to share their own celebrations through music, interactive resources and the Coca-Cola FIFA World Cup Trophy Tour.
Coca-Cola will launch a series of global TV ads, one featuring former Cameroon player and Italia 90 hero Roger Milla. As the oldest player in the tournament, he became famous for his goal celebrations at the corner flag.
The ads will feature a specially commissioned song, called Wave & Flag, which will also be played online and at all Coca-Cola marketing events.
The brand is also launching the Coca-Cola Celebration Award. Each time a player celebrates a goal with a dance, footage of it will be uploaded to a website where fans can vote for their favourite. The company will donate an as-yet unspecified sum to the Coca-Cola Water for Schools Programme for each celebration.
When asked whether FIFA would relax rules surrounding goal celebrations, FIFA president Sepp Blatter said: 'Players will be urged to do it with discipline and respect.'
An online component of the campaign goes live early next year. Fans will be urged to upload footage of celebrations, which Coca-Cola will stream in a continuous loop.
The brand will also roll out limited-edition commemorative World Cup packaging across its products.
The soft-drinks firm has also launched the Coca-Cola FIFA World Cup Trophy Tour, which will visit 86 countries over 225 days. The first such tour took place ahead of the 2006 World Cup in Germany.
The global 2010 roadshow will visit every African nation before arriving in the host country South Africa.
Coca-Cola, which has links with FIFA dating back to 1978, has already launched a ticket giveaway through its Coke Zero brand.
The on-pack promotion kicked off on 10 September and continues until the end of the month.