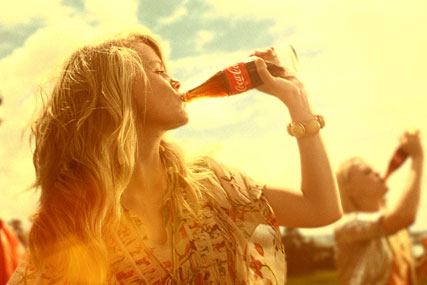 The soft-drinks company has started a consultation with its employees, which may lead to staff being made redundant across the 38 countries in which Coca-Cola Europe operates.
Coca-Cola confirmed that all roles, including Cathryn Sleight's position of marketing director of Coca-Cola Great Britain, are under review.
Dominique Reiniche, president of Coca-Cola Europe, said: 'The changes we have announced will simplify the way we do business and make us more efficient by being faster to market and allowing us to increase the scale of our activities across Europe.'
Coca-Cola said that it had informed employees of 'plans to simplify the structure of the business to improve efficiency and effectiveness', but would not give further details.
One expected outcome is that Coca-Cola will make London the hub of its Euro-pean marketing operations, with some Great Britain and European roles that are currently carried out separately becoming the responsibility of one person.
The efficiency drive could also lead the company to seek agencies that offer full-service advertising.
In the UK, Coca-Cola works with several agencies: Mother handles the majority of the brand's advertising activity; Carlson Marketing oversees online loyalty site Coke Zone; and VCCP handles advertising for Capri-Sun and the recently relaunched 5 Alive juice brand. Media planning and buying is handled by Vizeum.


Coca-Cola sales
Coca-Cola posted total UK sales of £1.02bn in 2009.
Sales of regular Coke rose by 4.9% to £542.3m.
Diet Coke's sales grew by 5.2% year on year to £421m.
Sales of the sugar-free Coke Zero variant bucked the trend, however, remaining flat at £56.3m.
Source: Nielsen