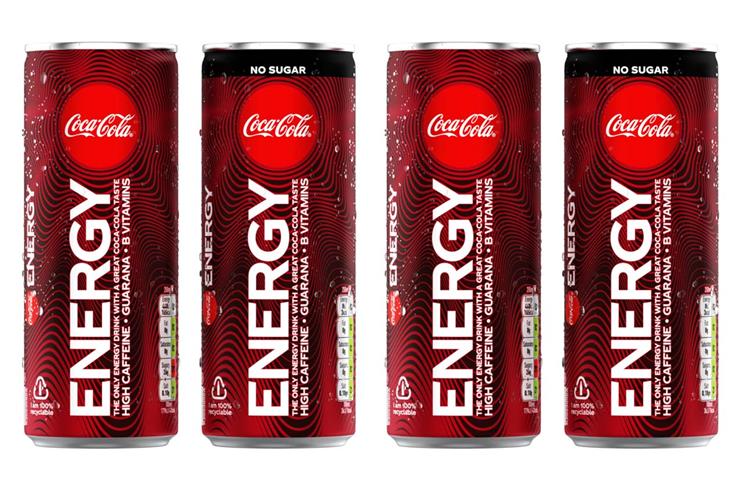 Coca-Cola is launching its first energy drink under the Coke brand, Coca-Cola Energy, in late April.
The drink will come in slim 250ml cans – the same format used by leading energy-drink brand Red Bull – in standard and no-sugar versions. It contains caffeine and guarana extracts but no taurine, a stimulant often found in energy drinks.
Coca-Cola Energy contains 80mg caffeine per 250ml can, roughly the same as in Red Bull, while the regular variant has 26g of sugar per can – the same as the sugar content of standard Coke.
The brand is planning a marketing campaign for the launch.
Javier Meza, global chief marketing officer, sparkling business, at Coke, said: "Coca-Cola Energy includes ingredients from naturally derived sources and a delicious and refreshing taste of Coca-Cola.
"We kept these two qualities at the heart of how we developed the recipe and are proud to offer it under the Coca-Cola brand, inviting people to try a new and different energy drink that is designed to complement upbeat and busy lives."
The launch follows a steep fall in supermarket sales of classic Coke – still the best-selling soft drink in the UK – after the company raised prices as the UK introduced the sugar tax in April last year.
By volume, classic Coke sales were down 14.8% in the 12 months to September, according to Nielsen data, although value sales were up slightly (2.9%) due to the price increase. Surging sales of Coca-Cola Zero Sugar, meanwhile, mean that overall sales for the brand were up 9% in value in the same period – a rise of more than £100m to £1.23bn.
Jon Woods, general manager at Coca-Cola Great Britain and Ireland, added: "Our strategy is to offer people a wide range of drinks to meet different lifestyles and occasions, and Coca-Cola Energy is the latest example of that."