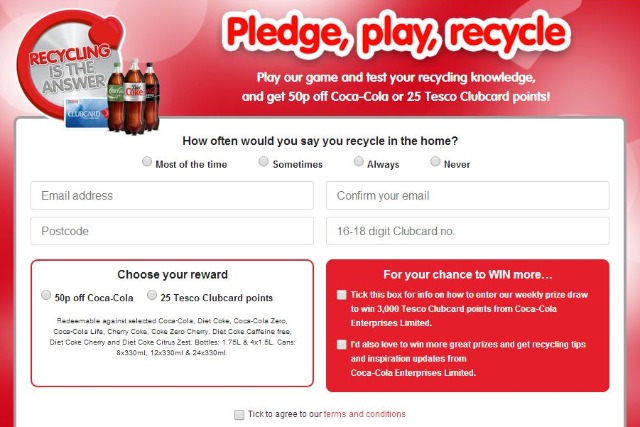 The brands have joined forces to promote recycling by encouraging consumers to visit a joint website where they "pledge, play and recycle".
The campaign, which uses the strapline "Recycling is the Answer", aims to engage and educate consumers in a bid to boost out of home recycling rates.
Tesco's online customers will be directed to the dedicated site where they can play a themed game, sorting a variety of packaging into the appropriate recycling bin in a "virtual kitchen".
They will be encouraged to make a pledge to recycle more at home and all participants will receive either 25 Clubcard points or a 50p coupon in return. Consumers that share their pledge on Facebook or Twitter can earn a further 25 Clubcard points.
The brand said they hoped to bring an "element of fun" to the process of recycling while providing guidance on which materials can be recycled.
"The campaign is the result of our shared dedication with Tesco to reduce our carbon footprint and help customers do the same in their homes," said Nick Brown, associate director of recycling for Coca-Cola Enterprises.
"Past initiatives have demonstrated the power of pledging, combined with awareness raising, and we hope 'Recycling is the Answer' will have a similar impact. We are committed to helping the public make positive changes and hope the fun and practical tips provided in this campaign will address some of the barriers to at-home recycling," he added.
David Beardmore, Tesco's category buying manager for soft drinks, said: "We want to do all we can to reduce our own carbon footprint and help customers find simple ways to recycle more at home. The campaign will offer helpful tips and advice as well as the chance to earn Clubcard points, so we're looking forward to sharing it with our customers."
After playing, customers are invited to take part in weekly prize draws for the chance to win 3,000 Clubcard points.