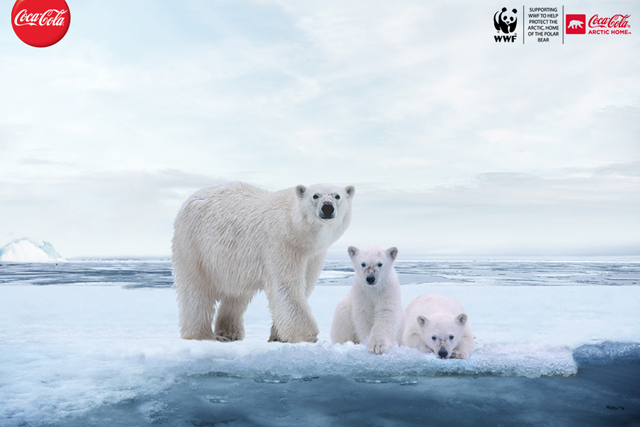 Under its pan-European 'Arctic Home' scheme, Coca-Cola will donate €3m a year to help protect the polar bear population and support WWF's lobbying of international governments.
Funding will go toward researching polar bear numbers, helping human communities to live harmoniously with the animals, and encouraging governments to hold a summit to 'put a spotlight' on the challenges facing the bears.
Coca-Cola will promote the initiative with a campaign, including a TV ad, set to break on 2 February. Special-edition cans (pictured, right) will feature images of polar bears.
The brand is also launching print and digital activity, with a promotion on its digital sign at LondonÕs Piccadilly Circus. It claims the drive is its biggest pan-European activity to date.
Earlier this year, Coca-Cola launched an ad campaign featuring talking animated polar bear characters, directed by Ridley Scott.
The brand's GB marketing director, Zoe Howorth, said: 'Polar bears have been a much-loved part of Coca-Cola's advertising for over 90 years. We want to help create a future for them and their Arctic home.'
A version of Arctic Home recently launched in North America. Coca-Cola previously worked with WWF through its Polar Bear Support Fund.
Polar bears first appeared in a Coca-Cola print ad in 1922, and were revived with its 1993 execution 'Northern Lights', which showed bears enjoying the celestial spectacle with a bottle of Coke.