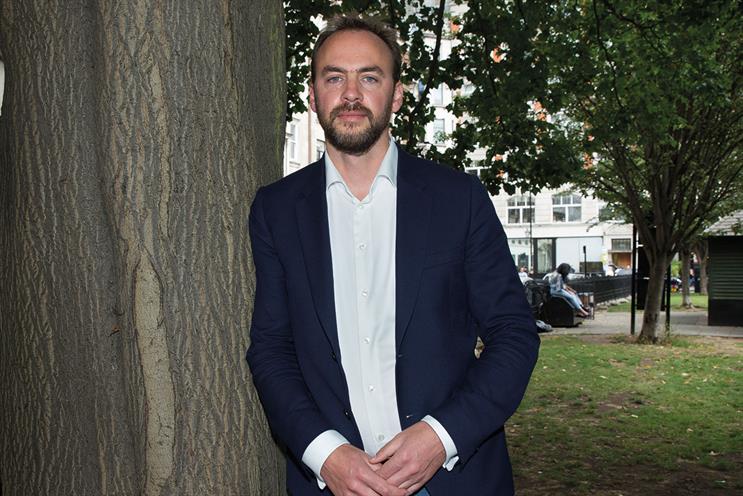 This summer saw a huge shake-up in the outdoor ad industry after Transport for London awarded its £500 million bus shelter contract to JCDecaux.
So how did the ten-year incumbent, Clear Channel, react after losing such a massive contract? By publishing a double-page ad in Campaign titled: "GUTTED".
It seems a bold move, considering what happened behind the scenes: in March, Justin Cochrane was appointed as the chief executive, less than a year after the mobile specialist Andrew Morley had been given the job.
Morley left by mutual consent and Cochrane, the company's former chief operating officer of Europe, was brought in as a safe pair of hands at Golden Square. He has been at the company for 14 years.
So was the "gutted" creative his idea? "No-one really knows where it came from," Cochrane says. "Anyone who has been at Clear Channel for a long time knows that TfL is a large part of our business – we've had it for more than 35 years in various guises. So losing it was quite emotional."
He is adamant that, given another chance, Clear Channel would not have lowered its TfL bid: "Out-of-home is littered with incumbents on big contracts who are bidding and putting the company in difficulties. For a big tender, you've got to be slightly uncomfortable, but you've got to draw a line somewhere."
The TfL bus shelter contract, which Clear Channel had held since 2005, had secured the company dominance of the six-sheet market in the capital. How is such a loss going to impact on its offer to clients?
"We will still be the largest owner of six-sheets in the UK… we will still end up with a market share of about 54 per cent. But it does change our distribution. In round numbers, we have 45,000 six-sheets, of which 10,000 are in London and 4,500 of those are not owned by TfL. Our national spread still covers all major UK cities and that's very important."
Throughout, the words "honesty" and "openness" permeate almost everything Cochrane says. He speaks earnestly about his work ethic and his commitment to being fair with his colleagues, whom he describes as "like family".
When pressed on his plan for the UK's third-biggest outdoor media company, Cochrane is confident about the success of Adshel Live and Storm, the dual brands that are spearheading the company's digital expansion. Money that would have gone towards servicing a renewed TfL contract will now be invested in Storm, which will be rolled out in 15 UK cities.
His predecessor, Morley, had previously worked for Google and Motorola and his appointment appeared to signal that OOH was moving ever closer to the mobile sector. Cochrane says that is still the case, but stresses that digital currently accounts for 30 per cent of the business and that transition to mobile may take longer than thought.
He explains: "If OOH is 10 per cent of the ad market, digital OOH is 3 per cent. If you're a media agency and having to deal with seven different media owners, it becomes a headache – and that's where it's not getting as much traction as it could.
"It is incumbent on us to make media easier to buy, then it will really start to generate more revenue."
Cochrane is full of warm words for Morley, who apparently still uses the gym at Golden Square and is still friendly with former colleagues. So what went wrong?
"Andrew came from a different industry, knew a bit about OOH but not a lot," Cochrane says. "I think the UK OOH industry is going through a complicated time with all the big contracts up for tender. It is a time when you need somebody who really understands the intricacies of that in how to lead the company rather than somebody who is bringing in fresh ideas.
"I think Andrew was pushing to make decisions but was struggling to understand which were the best ones. It's easier for someone like me who's been here for a long time. I know all our sites. I negotiated half the deals myself."
He agrees that he could be described as a "micro-manager" and admits he may frustrate colleagues with a desire to "get involved in everything so I can understand it better". He baulks when I use the word "workaholic": "'Workaholic' suggests I don't enjoy working. I love my job."
And his job, as he sees it, is to help Clear Channel act as more of a challenger brand to JCDecaux and Exterion in the wake of losing TfL. He says: "Being a challenger brand is more fun because you can be more open, more honest and a bit more risky with the stuff you put out there."
Those words resurface again: "open" and "honest". For an industry whose de-tractors accuse advertising of being the opposite, it makes for refreshing reading. But one wonders how many more expectations this fledgling chief executive will have to confound to get Clear Channel back on track.