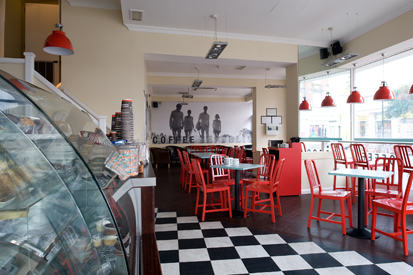 The coffee-shop chain, which launched in the UK in 1995, hired design agency Conran & Partners to lead the revamp. The first store to receive the makeover is in Hove, West Sussex, with its London cafes to follow in the next six months.
Coffee Republic will use lighter colours in its branding and store furnishings, as it found its previous dark palette and "masculine" bar interiors were "off-putting" to women. Stores will now have lighter walls, black and white tiled floors and red furniture.
The visual identity spells out Coffee Republic in a simple font on a white background. The previous logo was in white on a dark background, alongside a red heart motif and the line "In coffee we trust".
The company's chief executive, Tariq Affara, said the brand needed to widen its appeal without alienating its existing customer base. The chain has more than 100 UK outlets, including its concessions in Cineworld cinemas.
Coffee Republic is the latest in a succession of coffee-shop brands to either rebrand or launch fresh store formats.
Earlier this month, Costa Coffee ramped up its efforts to win over inner-city coffee drinkers with the launch of its first Costa Coffee Metropolitan store, on Great Portland Street in London's West End.
The store features exposed brickwork, glass, stone and timber, quirky lighting and bold artwork to differentiate it from Costa's traditional outlets. The Metropolitan branches will focus on hot food.
Last year, Starbucks opened the first of a series of "retro" shops in London to tap into its origins as a local coffee house. The first store featured antique furniture to create a more "bohemian" atmosphere.
Starbucks aims to convert more than 100 UK branches to this format by the end of the year.
COFFEE-SHOP CHAINS BY NUMBER OF UK OUTLETS
Costa Coffee, 1000
Starbucks, 717
Caffe Nero, 410
Caffe Ritazza, 183
BB's Coffee & Muffins, 133
Coffee Republic, 62*

*Not including Cineworld concessions
Source: Allegra Strategies, Dec 2009