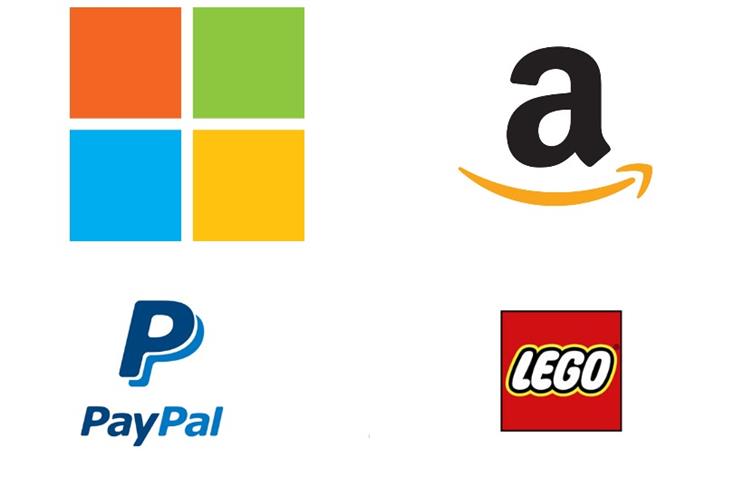 Like pornography, brand authenticity is hard to define, but it's something consumers know when they see it.
Where they see it is something that PR agency Cohn & Wolfe has studied since 2012, when they first conducted their Authentic 100 survey to determine which brands consumers hold in the highest esteem. They measure using three descriptors: reliable—a brand delivers on promises; respectful—it treats customers well and protects data; and real—it communicates honestly and acts with integrity.
On Thursday, Cohn & Wolfe's Chief Client Officer Brook Hovey unveiled the 2017 study's top 10 finishers at an Advertising Week panel with PayPal Comms SVP Franz Paasche, Microsoft Brand, Advertising & Research CVP Kathleen Hall and Amazon Executive Creative Director Michael Boychuk. Their companies placed fifth, third and first on the list, respectively.
It was striking, Hovey noted, that the top 10 was so dominated by tech—Apple, Google, Intel and HP joined the panelists' companies to fill seven of the spots. "Tech brands combine the excitement of innovation with [making] the everyday living of life easier, and that gives you a trusted role in people's lives," said Paasche. As popular opinion of political leaders continues to wane, he continued, tech can­–-and already has begun to—fill the void of moral leadership. "How we think about values and the issues facing our planet and country. That's a potent combo for connecting with all your stakeholders."
These companies may be uniquely positioned to assert authenticity in this moment, but they're able to do it only because they have demonstrated track records of identifying, focusing and sticking to their core values. Hall explained that she joined Microsoft shortly after the launch of their disastrous Vista operating system precisely because she saw the blowup as an opportunity to refocus the brand on authenticity. "We went back to our consumers and did a global study, visualizing what the brand meant to them. There was consistency worldwide: Microsoft means opportunity, access and connection, a combination of strength and possibility." Ten years later, consumers are still connecting Microsoft to those ideas—an authenticity win.
As in many offices, PayPal's values are "literally written on the wall," Paasche said, and they include among other things inclusivity—a value which faced a major test last year, when PayPal had to decide whether to scrap plans for a North Carolina office after the state's legislature passed a transphobic bill. Immediately, PayPal publicly condemned HB-2 by citing the company's devotion to inclusivity; less than two weeks later, it withdrew the office. "We had to decide whether we were going to stand for inclusion, if the values on the wall would be the values we apply when we walk in the world," Paasche said, adding that he was "proud" of his company for their decision.
Inclusion is one of our core values and we are proud to champion LGBTQ equality in N. Carolina and around the world: https://t.co/40yYLCrqO1

— PayPal (@PayPal) March 24, 2016
The company was widely praised because the move was congruent with consumers' existing opinion of the brand. "Our values don't change," said Paasche. "They help guide us, so that when we've had to make tough decisions, it's not a political decision—it's a values decision."
Hall added, "You can't borrow from social value—you have to pay into it."
Cultural authenticity, like political authenticity, is also a tricky subject, and the panelists didn't agree on best practices. Amazon's Boychuk argued for a localized approach. "We all know over-templatized global advertising when we see it. [Amazon] should feel Indian in India, Chinese in China, and Canadian in Canada," he said.
Paasche and Hall countered that their experiences and research reinforced that consumers share more commonalities than differences. "We are a champion to connect small merchants and customers all over the world, and their aspirations are often the same no matter where they are—they just want to be part of the global economy," said Paasche.
For companies that haven't yet made it onto the Authentic 100 (Cohn & Wolfe will reveal the full results in a few weeks), Hall highlighted an important concept that too often gets left out of discussions around credibility. "There's humility in authenticity, admitting that we don't know it all and we're going to learn," she said. It's just like a human relationship."
Boychuk finished by reminding brands that, as the study measures it, authenticity depends mostly on customer experience—reliable and respectful don't come from advertising. "You can say whatever you want, however you want to say it, but if you're not interacting with people authentically advertising is nothing."
But when it's time to create that campaign, remember that it all starts with the brief, and that the brief has to be inspirational and itself authentic to customers. "The essence of any great brief starts with the customer. An awful brief starts with business," he added. "If you start with what you want to do in Q3 instead of addressing the friction that people have in their lives, that's not great advertising." And it won't be authentic, either.