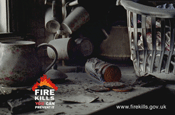 COI put together a longlist of roster agencies earlier this week and has scheduled meetings for next week. It is understood that a shortlist will be finalised by the end of next week.
The brief focuses on fire safety and it is understood that the next campaign will take the same vein as previous ads, which urged people to test their smoke alarms regularly to prevent deaths or accidents at home.
The incumbent, Euro RSCG London, will not repitch for the account as it is no longer on the COI roster.
The agency's last fire safety TV campaign, "pull your finger out", supported the Government's publicity campaign, "fire kills".
It featured the actress Julie Walters, who urged viewers to test their fire alarm before it is too late, while standing in a burnt-out kitchen.
According to government figures, one in three smoke alarms fail because they do not have working batteries.
David Watson, the DCLG head of campaigns and marketing, said: "'Fire kills' is a hugely successful campaign, which has played a major role in saving lives over the last decade. Procurement regulations mean we have to part ways [with Euro RSCG] however, so I'm now looking forward to discussions with a number of agencies over the next few weeks."