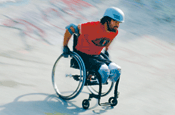 TBWA\Manchester, Abbott Mead Vickers BBDO and Publicis have been invited to take part in the pitch, which will be managed by COI.

The campaign will aim to recruit people from a wider range of backgrounds into social work with children and families.

It will also aim to make existing social workers feel good about the job they do in a bid to improve retention of staff.

The first work is due to launch in February 2009 and the successful agency will be expected to work alongside agencies already working with CWDC.

There is no incumbent on the account.

However, Publicis currently works on an existing CWDC campaign to promote the Early Years Professional Status qualification.

The CWDC business is also separate to the Department of Health's social care account, which is currently handled by Lowe London.

Last year, the agency produced three 30-second TV spots featuring real-life pairings of social workers and their assigned partners.

One execution featured a wheelchair-bound skateboarder called Shaho, with his carer Louise watching ?him perform stunts in a skate-park.

Another featured an autistic boy called Tunde, ?and his care worker Pete, as Tunde began a new job.