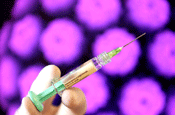 Abbott Mead Vickers BBDO, CHI & Partners, DDB London and WCRS have been invited by COI to pitch for the account.

Presentations will take place before the end of the year, with work expected to run in 2008. The winning agency will work with Naked, which was handed the communications planning portion of the business earlier in the year and has been working with the department for several months.

The government announced its plans to introduce the vaccine, which aims to reduce cases of the disease by 70 per cent, in June this year. The injection protects against the viruses responsible for the majority of cervical cancer and will be targeted at all girls aged 12 and 13.

At the time of the announcement, campaigners argued that vaccinating young teenage girls against the sexually transmitted human papilloma virus could encourage promiscuity.

A Department of Health spokeswoman said: "Publicising the facts about this vaccine and signposting where more details can be found will ensure that parents and their daughters have access to consistent information and the level of detail of their choosing."

Cervical cancer is the second most common cancer in women worldwide, with over 2,700 new cases diagnosed in the UK annually. The DoH believes that use of the vaccine could save hundreds of lives each year.