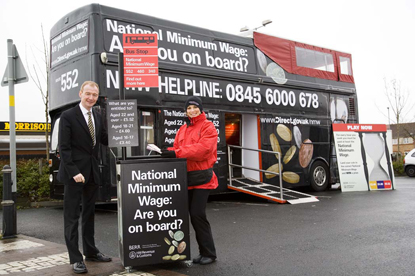 COI will hold the pitch on Thursday (23 April) for the campaign, which will run over the next two years.
The national campaign will aim to raise awareness among workers of their specific rights enforced by the Government, and help with getting workers their entitlements.
The campaign will also launch a new helpline in May 2009, which merges three of the five existing employment rights helplines: the Agricultural Minimal Wage helpline; the National Minimum Wage helpline and the Employment Agency Standards Inspectorate helpline.

The helpline will offer advice to people whose employment rights are abused, such as labourers who work for gangmasters in agriculture, forestry, horticulture, shellfish gathering and food processing. Vulnerable workers, such as temporary or agency workers, do not often access the same workplace rights as permanent workers.

Since 1997, the Government has set in place a framework of employment rights, including the right to a minimum wage, the right to 24 days paid leave (increasing to 28 days this month), and the right to not work more than a 48-hour average working week.

Last year, the Government published a final report outlining how it would ensure that all workers benefited from these workplace rights. The Government's Vulnerable Worker Enforcement Forum, which was established in June 2007, looked at the nature and scale of the abuse of workers' rights. Its findings were published last August.