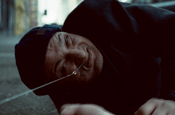 COI, which is handling the review, has shortlisted two agencies to pitch for the three-year contract, with a final shoot-out set to take place in two weeks' time.
The winning agency will produce online work to support the DoH's anti-smoking advertising activity.
ts most recent campaign, by Miles Calcraft Briginshaw Duffy, featured people with hooks through their faces and was banned by the Advertising Standards Authority.
The account has previously been assigned on a project basis. The most recent online anti-smoking drive was created by Lean Mean Fighting Machine.