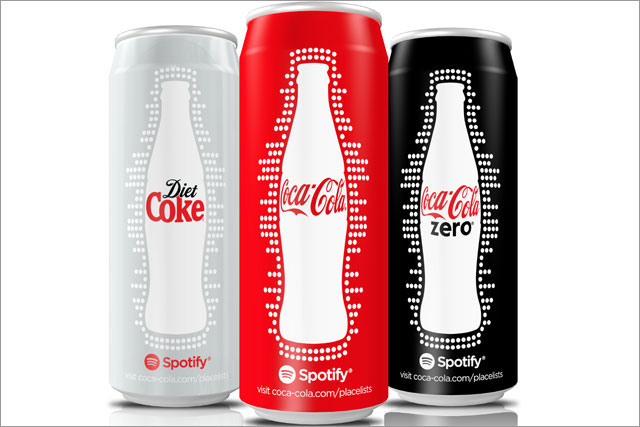 The slim 250ml cans are rolling out across the company's MyCoke portfolio, which includes Coca-Cola, Diet Coke and Coke Zero, to create an "on-the-go" option for consumers.
The cans are branded with the Spotify logo and the line "visit coca-cola.com/placelists", which takes consumers to a Spotify app that lets people tag where they are listening to their music.
The Placelists app shows a red map of the world with tags that click through to specific songs people are listening to around the globe.
People can also 'Blip' the new cans to unlock an augmented reality feature through Blippar, which will enable consumers to access additional music tracks through their smart devices.
The new cans are the latest in a long line of marketing initiatives featuring innovative packaging design, from its current work personalising bottles with people's names, to Diet Coke's partnership with designer Carl Lagerfeld.
The launch is supported by a targeted marketing campaign featuring TV, outdoor and digital activity, running until autumn.
Jon Woods, general manager, Coca-Cola GB and Ireland said: "The new 250ml can forms part of our ongoing commitment to provide the people who enjoy our drinks with greater choice in terms of calories and portion size, supporting our goal of helping to promote greater awareness of energy balance in diets across the UK."