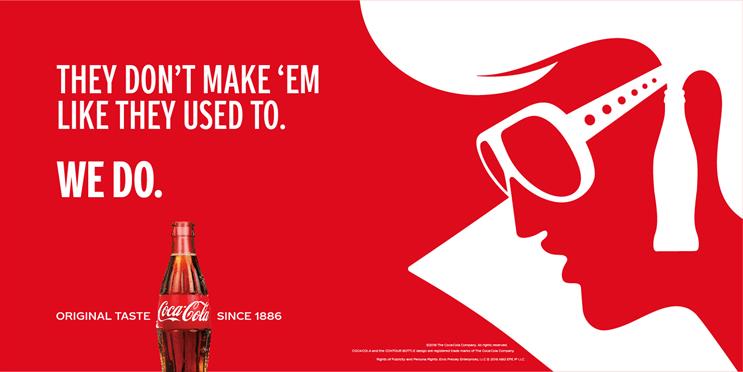 The ads, created by Recipe, feature a graphic reminiscent of Elvis Presley with a Coke bottle-shaped sideburn, and the straline: "They don't make 'em like they used to. We do."
Ten- and 5-second animated versions will appear on social, with static version on large format out-of-home sites. They were created by Noma Bar for Recipe, with media buying handled by MediaCom.

The soft drinks levy, announced by then Chancellor George Osborne in 2016, comes into effect tomorrow and charges soft drink manufacturers for every litre of soft drink packaged for sale with a sugar content of 5g per 100ml or higher.
There are two brackets of the tax, with a higher rate charged for drinks with more than 8g of sugar per 100ml. With 10.6g of sugar per 100ml, classic Coke is comfortably above this.
While Coca-Cola has reformulated many of its other drinks, including Fanta and Sprite, to make them exempt from the tax, it has chosen not to do so with classic Coke – instead putting its marketing heft into encouraging consumers to switch to Coca-Cola Zero Sugar.
Aedamar Howlett, marketing director at Coca-Cola Great Britain, said: "Recently, we have been asked why we are not changing the recipe of Coca-Cola Classic and quite simply, that's because it's an iconic and delicious drink which people from across the world enjoy.
"It's the original and it's an icon – one which has never been matched or beaten. The 'We do' campaign is a celebration of our heritage and of the truly remarkable drink which has survived over a century and isn't going anywhere soon."
It is not entirely true that Coca-Cola's recipe has never changed. When the product was first launched in 1886, it contained both coca leaf and kola nut, the two ingredients that gave it its name, both of which have now been removed.
In the 1980s in the US, the company infamously changed the recipe of Coca-Cola to fight off strong competition from Pepsi. "New Coke", as it became known, had scored better than both original Coke and Pepsi with testing panels – but when the drink reached the market, it was hit with a furious backlash, leading Coca-Cola to eventually bring back original Coke.