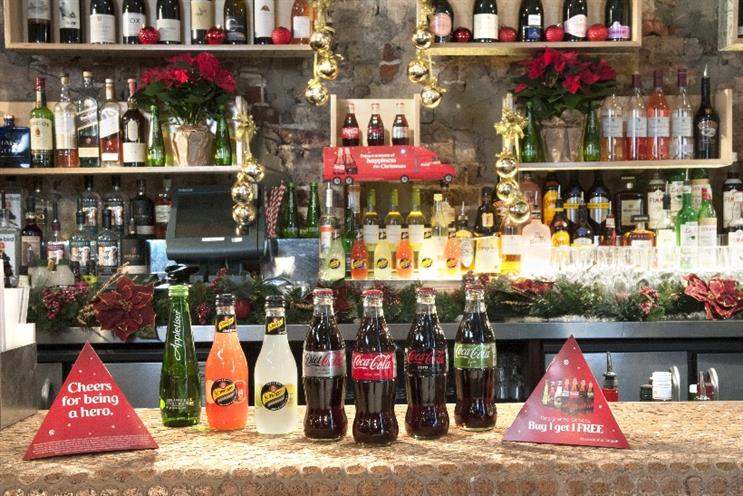 The soft drinks giant has published the findings as it gears up for its annual Designated Driver campaign, run in partnership with the Department for Transport's THINK anti drink-driving activity.
New to this year's Coke campaign is the creation of an online Designated Driver Pub Finder tool to help drivers locate the 8,000 participating pubs and bars.
Coke will reward drivers who abstain from alcohol during trips to the pub over the festive period, with a two-for-one offer redeemable against brands including Appletiser, Schweppes, Coca-Cola, Diet Coke, Coca-Cola Zero and Coca-Cola Life.
Coca-Cola's research found 30% of Brits plan on attending three or more Christmas parties in December.
Coke has also highlighted how drinking heavily the night before can impact on Christmas tasks. More than two-thirds (67%) of those surveyed said having a big night out made it harder to prepare for Christmas. 36% claimed they could not face cooking for friends and family and 32% admitted they could not face the prospect of a big Christmas shop.
Other tasks that sufferers would rather avoid included entertaining children (27%), wrapping presents (23%), eating Christmas dinner (18%), and, interestingly, drinking more booze (20%).
Jon Woods, Coca-Cola Great Britain's general manager, said: "For the eighth year in a row, designated drivers at pubs across the country will be rewarded with free drinks so that they can celebrate the festive period and help to get their friends and family home safely.
"This is our way of thanking the unsung heroes of the festive party season, whilst helping make sure the roads are a bit safer for everyone."