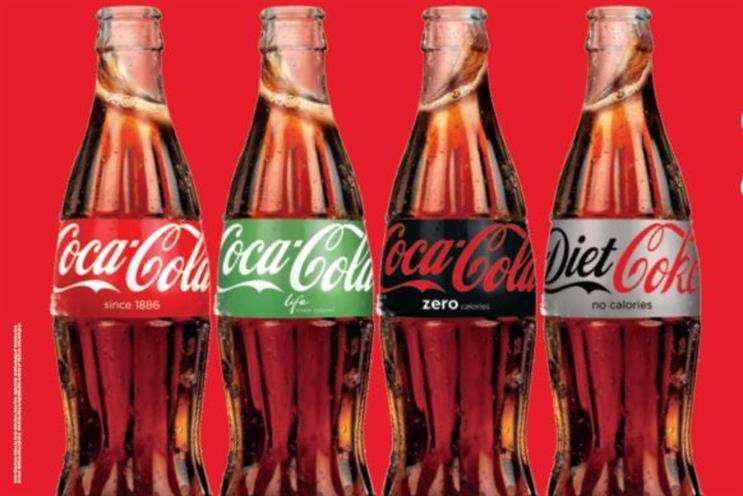 Brittain on the business case for change...
"When people think about Coca-Cola now there is an immediate jump to the product with sugar in it. Our ambition is that over time when people think of Coca-Cola they think about the choice that is available to them under that.
The Cola segment is enormous and we have a prominent role in that and we believe there is much more growth that can come from it when we enact this strategy. When we tell people and have them understand the choice that's available to them we're convinced they will make more choices more often.
We will be relentless in the communication of product characteristics
The 'one brand' strategy will help drive more growth in our lower and no calorie variants – more growth than the rest of the portfolio – such that we want half of our sales from the trademark by 2020 to come from these products.
It's all about changing consumer tastes. The benefits that accrue to Coca-Cola [through this strategy shift] wont be as great as those that accrue to Coke Zero and to a lesser extent Coke Life so there's an 'equalising' of the portfolio in that sense."
On the redesign...
"As we have innovated we have added more personalities and colours to the overall portfolio, which has had an impact on the salience and stand out of Coca-Cola.
In particular the red of Coca-Cola is slowly being fudged into different colour palettes. That's an issue there we're aware of so we're moving to a 'one brand' strategy.
What's different about this approach is we're going to talk about the product benefits much more clearly [for Coke Zero, Coke Life and Diet Coke].
There won't be any of the brand wrapping and positioning- all we will talk about is the product differentiation so that people can understand the choice we're offering.
We haven't been successful enough in communicating what Coke Zero stands for
We will be relentless in the communication of the product characteristics and the brand communication will be made at the Coca-Cola [master brand] level.
There are four variants at the moment – but who's to say in two or three years there isn't another manifestation? There may well be.
And if there is it will sit very comfortably in this family because everyone is equal and we have one Coca-Cola brand that encompasses all of the iterations."
On Coke Zero...
"Coke Zero has no calories and tastes as good as Coke and there are very few brands that can offer a no sugar alternative to their main product and have it taste as good. But 50% of consumers of Coke Zero do not know the product characteristics.
Making Coke Zero work on people has cost us a significant sum and yet half the people don't get it, so we haven't been successful enough in communicating what Coke Zero stands for.
At the moment we invest a lot of money in Coke Zero but not as much as we're going to be, because it will form part of all communication we will do on Coca-Cola. I think there's a disproportionate benefit it will have from this strategy, as it will have more airtime than it currently gets.
Diet Coke gets the best of both worlds in this strategy
We've got something in Coke Zero that we're not fully capitalising on because when we tell people it has no calories that's a surprise to half of them.
We have to strip away some of the emotional baggage [around the brand] that hasn't helped consumers to understand what the product is."
On Diet Coke...
"With Diet Coke we've just launched the new "regret nothing" campaign, which has at its core insight around the fact that the product has no sugar and no calories – so what's there to regret when drinking Diet Coke - and on an emotional level it's a call to action for people to regret nothing in their lives.
Diet Coke gets the best of both worlds in this strategy. It will be part of this choice approach but it will continue to have its 'own time in the sun' and be treated as a brand.
Over time it will transition into the new model but it's a quarter of our business in GB and too important to potentially disenfranchise people for whom Diet Coke as a brand is important."
---
Recommended