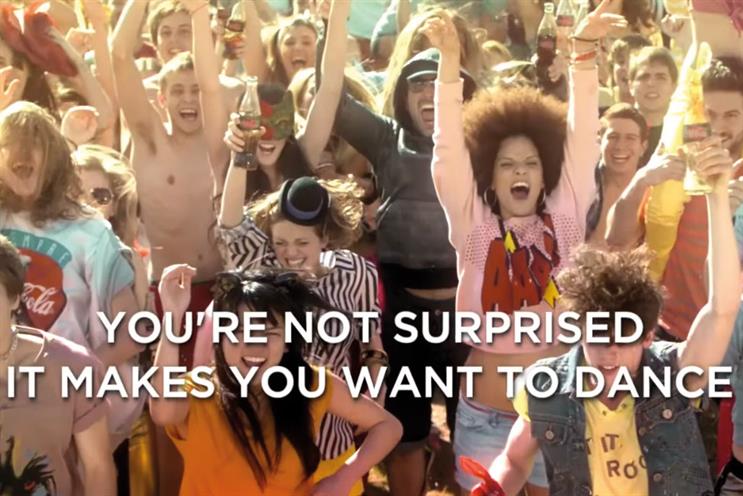 Called CokeTV, the platform is an almost mathematical calculation of what might appeal broadly to the YouTube generation. It is fronted by vloggers Emmanuel "Manny" Brown and Dodie Clark.
Brown and Clark tap into two popular YouTube genres – the live video gaming format popularised by PewDiePie and the acoustic ukulele cover. The pair separately commands hundreds of thousands of YouTube subscribers and collectively have generated more than 100 million views.
And why now? Jennifer Black, managing partner at Fabula who worked on Coke at Mother, notes the brand is no longer woven into the fabric of culture in the way it once was. But she says of CokeTV that "if the content is loved, the Coke brand will be too".
The brand is certainly late to the YouTube game. It set up CokeTV in Germany in 2014 but waited several years before rolling the channel out more widely. Other big brands, including rivals, are ahead of the curve.
Late last year, McDonald's launched Channel Us, a millennial-focused channel fronted by YouTuber Oli White. Pepsi Max has taken a savvy approach, using its long-established YouTube channel to post "unbelievable" stunts. Pranks and stunts are another popular sub-genre on YouTube, and Pepsi Max's videos each regularly command millions of views.
But perhaps it's better late than never, and the YouTube channel could act as a fitting extension of Coke's "Taste the feeling" one-brand strategy. This has seen the company present Coca-Cola, Diet Coke, Coca-Cola Zero and Coca-Cola Life as variants of a single brand. It particularly wants to push no- and low-sugar variants in the UK – and Coke Zero has featured prominently in CokeTV's videos. (The poorly selling Coke Life is, curiously, nowhere to be seen.)
Indeed, Coca-Cola is this week launching its biggest new product campaign in ten years, backing the rebrand of Coca-Cola Zero to Coca-Cola Zero Sugar. The £10m campaign includes a TV spot by Madrid shop Sra Rushmore with the line: "Tastes more like Coke, looks more like Coke."