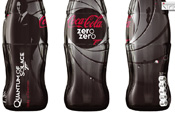 Limited-edition bottles will roll out in the UK next month, supported by a global ad campaign and on-pack promotions which using the 'Zero Zero 7' strapline.
The activity, created by Wieden & Kennedy, will be in keeping with the tone of the film, matching Daniel Craig's 'edgier' Bond to Coke Zero's male target audience.
The drive marks a shift upmarket for the brand, which used Girls Aloud singer Cheryl Tweedy in its launch ads and last year put football at the centre of its activity with work featuring Wayne Rooney.
The deal is the first global marketing partnership for the cola, dubbed Bloke Coke, since its launch in 2006.
The global premiere of Quantum of Solace takes place in London on 31 October. The 22nd Bond film, it was directed by Marc Forster and stars Craig in his second outing as 007.
Earlier this year, Coca-Cola revamped the global packaging for its Diet Coke, Coke Zero and Coca-Cola brands to feature a simplified can design and the authentic 'Coke red' for the first time. It will launch a new design spanning the entire range, including Coca-Cola, Diet Coke and Coke Zero, across Europe this Christmas.
Coke Zero
In the 16 weeks post-launch, Coke Zero's UK sales hit £24.1m. Some attributed this to heavy discounting and a short-term 'novelty factor', and 62% of its volume sales in the first 12 weeks were taken from its sister variants; Diet Coke dropped 32% and regular Coke lost 30%.
It grew its share by 2.8% to 5.3% for the year to September 2007, still trailing Pepsi Max's 7.9% share of the market.
Source: Nielsen