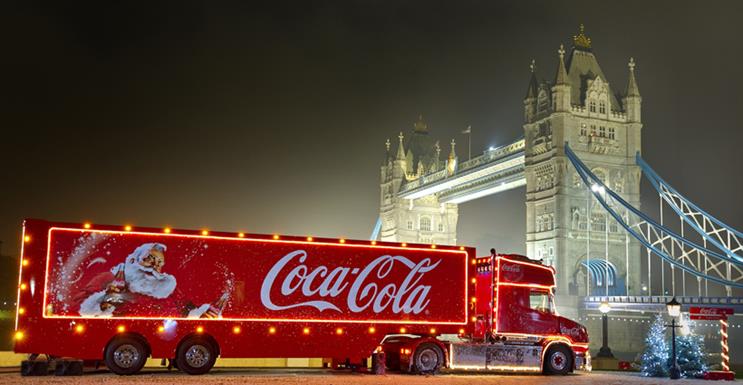 The truck will visit another 43 locations, starting with Glasgow the following day, and finishing up in London's Leicester Square on 20 December.
Visitors to each stop will get the chance to explore a "winter wonderland" environment and grab a free can of either classic Coke, Coca-Cola Zero Sugar or Diet Coke.
The brand is also taking the tour onto Twitter; users who tweet #HolidaysAreComing will see a picture of the truck appear in their tweet.
A new TV ad, "A Coke for Christmas" will launch later this month, along with the return of the "Holidays are coming" spot, 21 years after it was first shown.
Coke is also expanding its partnership with food waste and hunger charity FareShare, enabling consumers to donate a meal to someone in need via an on-pack promotion. And for the ninth year, it is partnering with the Department for Transport's "Think!" anti-drink-drive campaign on its designated driver programme, which offers drivers a free second soft drink at participating pubs.
Aedamar Howlett, marketing director for Coca-Cola Great Britain, said: "Coca-Cola is synonymous with the Christmas season and it's no secret that our "Holidays are coming" advert and Christmas Truck Tour mark the unofficial countdown to Christmas.
"This year, we'll also put those people who work behind the scenes to make Christmas happen at the heart of our Christmas campaign. We're proud to celebrate those that go the extra mile to make Christmas a special time of year – we all know someone who goes out of their way to put a smile on everyone's face and make the festive time of year magical for others."
Tour dates
Bishops Square, London - 17 Nov
Glasgow - 18 Nov
Ayr - 19 Nov
Dundee - 20 Nov
Carlisle - 22 Nov
Yeovil - 22 Nov
Exeter - 23 Nov
Newcastle upon Tyne - 23 Nov
Cardiff - 24 Nov
Sunderland - 24 Nov
Bristol - 25 Nov
Leeds - 25 Nov
Scarborough - 26 Nov
Swindon - 26 Nov
Bradford - 27 Nov
Milton Keynes - 27 Nov
Bournemouth - 29 Nov
Wrexham - 29 Nov
Southampton - 30 Nov
Watford - 1 Dec
Manchester - 1 Dec
Intu Trafford Centre, Manchester - 2 Dec
Lancaster - 3 Dec
Liverpool - 4 Dec
The O2 Greenwich, London - 3 Dec
The O2 Greenwich, London - 4 Dec
Baldock - 6 Dec
St Helens - 6 Dec
Harlow - 7 Dec
Doncaster - 8 Dec
Ipswich - 8 Dec
Cleethorpes - 9 Dec
Norwich - 9 Dec
Lincoln - 10 Dec
Northampton - 11 Dec
Leicester - 13 Dec
Peterborough - 13 Dec
Leyton Mills, London - 14 Dec
Telford - 14 Dec
Southend - on - Sea - 15 Dec
Birmingham - 17 Dec
Eastbourne - 17 Dec
Coca-Cola London Eye, London - 18 Dec
Leicester Square, London - 20 Dec