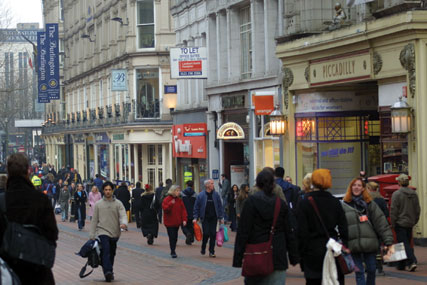 As revealed last week, the cold weather drove shoppers indoors and flocking to e-tailers to complete their Christmas buying.
GfK NOP research found 30% of Christmas shopping is done in the two weeks before the event, but figure could take a hit if arctic temperatures return this week according to a survey of 500 British adults quizzed at the end of November.
The largest sector – 40% – will use the high street, a further 25% will use out of town shopping centres, and another 16% rely on online shopping.
Some online retailers are already warning that the cold weather, coupled with the annual Christmas card crush, could make postal deliveries unpredictable, creating a problem for shoppers.
Pam Armstrong, managing director, GfK consumer products and retail, said: "Most Christmas shoppers are creatures of habit – going to the same places at the same time, year after year which normally leads to hordes of people buying all their presents in the last two weeks before Christmas.
"These people will find it difficult to get to their usual haunts if we have another bout of bad weather, and with out of town and internet purchasing unavailable to them due to restrictions on transport and delivery times, we may see total retail spending fall this Christmas.
"Remove this vital spending from the economy and you could see retailers plunging into the red, rather than using a festive boost to prop up the year's sales."
Most respondents (51%) said they would stick to their traditional shopping timetable, and would not be swayed by financial considerations or last-minute bargains.
John Lewis, Tesco, Sainsbury's and Dixons all expect strong trading this Christmas but some, like JJB Sports, claim the cold weather will push the retailer to break banking covenants.
Retailers in the north may emerge more strongly, as the research suggests 37% of northerners are likely to have completed their shopping in the last two weeks before Christmas, and have spent on high-value goods. Just 19% of southerners will have completed their shopping.
Armstrong said: "The one bright spot in our data is that, providing they've been able to get out and about, many northerners will have wrapped up most of their shopping already. The situation is not so good for southern retailers however, many of whom had banked on a strong lead-up to Christmas to make up for the expected decline in sales from January's VAT increase.
"Retailers will be praying that poor conditions don't last into the New Year and deliver a triple whammy of poor a Christmas, a white-out during the January sales, and a prolonged dip due to the VAT hike."