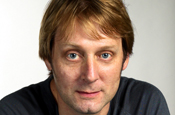 Christian has joined from Y&R BrandBuzz in New York, where he was director of strategic planning.

There, he created integrated strategies for clients including Ford, Texaco Chevron, Burt's Bees, Twinings and LG.

Vicky Bullen, Coley Porter Bell chief executive, said: "It is great to have Christian on board to build on our strategic planning experience and further develop our offer."

Beth Barry will now be responsible exclusively for the Unilever Comfort business, and Mathew Weiss will continue to head planning in Coley Porter Bell's South Africa office.