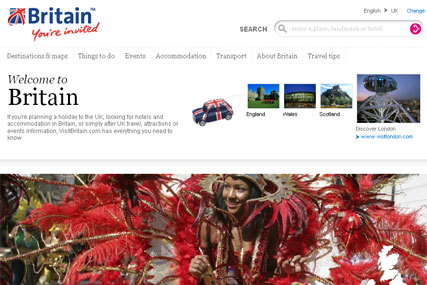 Comedy podcasters Helen and Olly of 'Answer Me This!' fame star in the videos as they travel throughout Britain. The comedy duo recorded over two million downloads last year.
Justin Reid, VisitBritain's head of digital, said: "'The Great British Questions' series offers an amusing and light-hearted insight into some of the quirky and quintessentially British traditions that are cherished by people across the UK."
They attempt to answer questions such as "what is the cheesiest place in Britain?", (Stilton, Cambridgeshire), "where is Britain's Hollywood?", "how do you woo a Brit?", "where's the best cup of tea in Britain?" and "where is Britain's best bathroom?".
VisitBritain developed the campaign in house. Helen and Olly are producing the videos themselves in concordance with VisitBritain, which are posting them onto the social media site.
Reid said: "By teaming up with leading comedy podcasters and showcasing the content on our Facebook page Love UK, we hope that we have captured the essence of what makes Britain a great place to visit, using our social media channels to tell our stories."
VisitBritain, under the aegis of the Department for Culture, Media and Sport, promotes international tourism to Great Britain.
The DCMS yesterday announced it was considering whether to change the status, role and functions of VisitBritain and sister organisation Visit England.