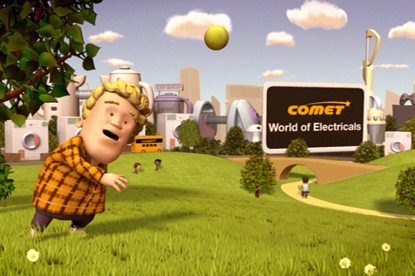 The retailer has invited a number of in-store and reputation management agencies, including Venture 3 and Addiction, to pitch in a bid to broaden its focus beyond traditional advertising channels.

Saatchi & Saatchi, which currently handles its ad business on a project-by-project basis, is still working on briefs for the retailer, but it is understood Comet is planning to reduce the number of TV ads it produces in favour of cheaper, non-traditional channels.

Saatchis has handled the ad account for the high-street electrical chain since it snared the business from Abbott Mead Vickers BBDO in 1995.

The retailer, owned by Europe's third-largest electrical retailer Kesa Electricals, currently spends around £14.5 million on above-the-line advertising each year.

The successful agency will be under pressure to help lift the British electrical giant's sales figures after Kesa posted a 7.7 per cent fall in sales for the year to April 2009.

The most recent ad campaign for the electrical retailer was launched in October last year. The ad featured people using its range of electrical products in a bid to highlight how the store can "help make the most of your money when it matters most".

A spokesperson for Comet said: "The economic climate has led us to reconsider our communications activity in the broadest sense, offering the opportunity to approach our partnerships differently. We are currently in the process of working this through with Saatchi & Saatchi."