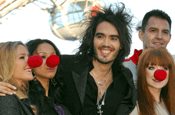 The charity is holding chemistry meetings with agencies and is putting together a longlist of six that will later be cut down to three.

The winning agency will be briefed to create a campaign to promote the new brand.

Comic Relief already produces co-branded products including Dubble, a chocolate bar.

The charity's main focal point is Red Nose Day, a fundraising event that culminates in an all-night TV show on BBC1.