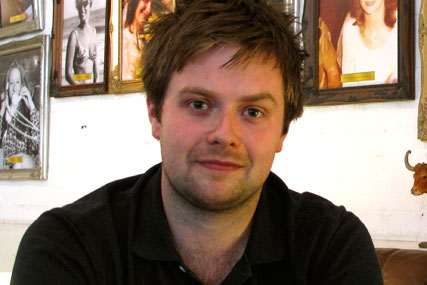 Those lovable musical misfits have captured the imagination of millions and made Fox so much money it's bordering on immoral. So why, you might ask, should Nabs be more like 'Glee'?
Let's be honest, our industry can often feel like a high school. There's the gossip, practical jokes, sports events and parties, not to mention that our collective approach to drinking isn't much more developed than a 16-year-old nursing a bottle of cider in a bus shelter up North.
But there's nothing wrong with that. I think our industry should feel a bit like never-never land. We certainly don't get paid enough to take it too seriously, but just like high school, among all the fun, frolics and irresponsible drinking, there are some quite serious issues to deal with.
This is where the producers of 'Glee' really excel. Their storylines include teenage pregnancy, homophobia and racism, but amongst all this, they still re-record 1980s rock classics with eye-wateringly camp choreography.
At the same time, we work in an industry where we sell tea bags with monkeys and credit cards with water slides, yet often ignore the serious issues affecting our colleagues and friends. We're more than half-way there when it comes to 'Glee'-ing Nabs up, we just need one final thing – you.
But before we talk about why you should get involved, let's be clear that Nabs is a benevolent society and not a charity. They deal with some serious issues, but their role isn't to take pity on us poor media folk – it's to be there as a service we can use throughout our careers.
Once you appreciate they aren't a charity, their offering suddenly starts to make a lot more sense and, once you're involved, it's as satisfying as harmonised choral covers of classic pop songs.
Nabs is here to make our industry better for everyone and we need people to get involved. It's not a charity, so please don't think it's some great and generous benevolent commitment on your part, it really is give and take.
For example, when I was a junior account man, I helped Nabs with a print brief for one of their events. I positioned it as a creative opportunity for the agency and with a fantastic team, we created some award-winning work on practically no budget. Nabs got some ads, we got some Creative Circle awards.
This year, Nabs gave me the "Rep of the Year" award, which might sound a little like I'm an out-of-work actor on the holiday camp circuit, but it's meant I've had the opportunity to write this piece, and also be involved in interesting projects and meet fantastic people.
So get involved, whether that's taking on the role of agency rep or just buying a ticket to their next event. At the very least you should recognise the opportunity you're missing, because, as Rachel from the show so aptly put it: "If you're part of something special, that makes you special, right?".
Samuel Payne is a strategist at Mother and winner of Nabs' Rep of the Year.