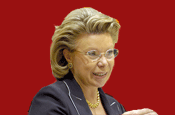 Reding, the EC commissioner for the information society and media was speaking at the Venice Festival of Media.

She told delegates: "As long as I am commissioner for media there will be no supplementary ad bans.

"Media needs the money from the advertising industry."

Reding said that the ad industry had nothing to fear from Europe while she is in charge of media policy and outlined her belief in self-regulation following the recent "TV without Frontiers" legislation which seeks to standardise TV rules across markets.

However, she called on media owners and advertisers to take the issue of privacy more seriously.

She said advertisers need to "reassure citizens that their data is being used in a responsible way" rather than merely complying by law.