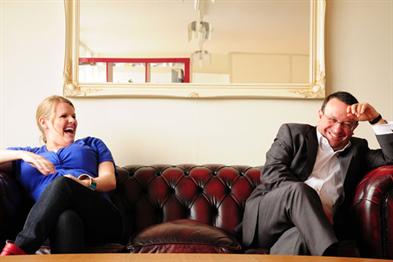 When we read last week's joint statement from Simon Timlett and Amy Lennox, in which they referred to the past four years as a "blast", we assumed they meant one of two things. Either they were evoking the swarming destruction of the locust-like insects of Deuteronomy chapter 27, verse 42. Or they were referencing the word's counter-culture (think Dennis Hopper) meaning of an enjoyable or exciting event, especially a party.
Our money is on the locusts.
Because Timlett and Lennox were, up until the statement was issued, two of the founding partners of Trinity Communications, which launched in July 2007 and decided to close its doors last week. A third partner, Phil Nunn, had already departed in April 2009, thus rather undermining the theological cuteness of the agency's name.
Trinity was a media planning agency whose clients included New Look, Harrods, the World Wildlife Fund and Figleaves.com - and though it had a distinctive slant towards direct response, it occupied the same communications strategy space as the likes of Naked, Unity, Michaelides & Bednash, Edwards Groom Saunders and Goodstuff.
Some of those companies pre-deceased Trinity - so you could argue that Trinity's demise didn't exactly come as a bolt from the blue. Which begs a rather interesting question. Strategic comms agencies and media planning boutiques began springing up because it was assumed that advertisers will always need a strategic comms input - and neither creative nor media agencies were providing it.
Mainstream media agencies have always insisted that they could step up their commitment to this function - and, indeed, over the past ten years or so, many of them evolved plausible offerings. More recently, however, the rising influence of procurement on the outcome of pitches has been accelerated by the downturn, forcing media agencies to pare their offerings to the bone.
One way or another, it looks as if advertisers are reluctant to pay for anything thoughtful or forward-looking. So either this function is a luxury they can easily do without. Or, you could argue, they've become irresponsible in their neglect.
Actually, Mike Hoban, the chief marketing officer of Confused.com, doesn't buy either of those propositions. And yet, when he was in a previous role as the marketing director of Scottish Widows, he dispensed with the services of its incumbent strategic agency, Naked.
He argues that, while advertisers appreciate media planning, they perhaps don't need an additional agency, with all the cost and complexity that entails, to provide it.
He states: "Marketers who employ separate planning agencies are abdicating their responsibility and undermining their media agency relationship. The remit of separate media thinkers has been marginalised by full-service media agencies investing in talent."
Meanwhile, Will Collin, a founder of Naked, says his agency has always suffered slightly from being bracketed with outfits claiming they're "doing a Naked" without ever really understanding what Naked was and is about. "We've always done smart non-traditional media planning - but it's always been about so much more than that. We do brand strategy and campaign ideas. It's ironic. We've always been seen as the brand leader in that market - but we've never seen ourselves as ever being in that market at all," he says.
He does, however, believe that the planning consultancy market is now being squeezed. However, Sue Unerman, the chief strategy officer at MediaCom, argues that strategic thinking is as important to clients as it ever was. But, as the industry has continued to evolve, it's been harder for standalone agencies to justify their existence. And that's not necessarily because they're being undercut when it comes to price.
She explains: "Clients will always value great thinking - and it's our business to grow their business. The real issue is whether you can separate strategy from media execution. Real-time planning is about reacting to intelligence really quickly - and that intelligence comes from those with executional expertise."
And while Mark Palmer, the Maverick Planet founder, suspects that comms planning may have slipped down the agenda in some quarters, he points out that there are plenty of clients who still recognise the value of a good strategy. He says: "I'm fortunate enough to have worked with clients who have valued strategic media thinking when in a full-service advertising agency environment, a media agency environment and, now, running a strategic change consultancy. If I wasn't valued, I wouldn't get paid."
Got a view? E-mail us at campaign@haymarket.com
YES - MIKE HOBAN, CHIEF MARKETING OFFICER, CONFUSED.COM
"The better media agencies still provide the insight, expertise and leadership skills to drive comms solutions. The best clients understand their craft enough to work with their media agencies to build the best campaigns."
MAYBE - WILL COLLIN, FOUNDER, NAKED "There's less money to go around these days. And it's true that the market for comms planning has shrunk, because other agencies are offering it for free. That has led to the demise of agencies that are only able to offer that."
YES - SUE UNERMAN, CHIEF STRATEGY OFFICER, MEDIACOM
"Of course clients value comms planning - the issue is whether you can separate it from media execution. I don't believe that you can, especially in these days of real-time planning."
MAYBE - MARK PALMER, FOUNDER, MAVERICK PLANET
"Strategic media thinking may have become valued less in the places that matter. There is less time for it in client diaries, it now comes too late in the process for it to have a full effect and there's not enough time working with other agencies."