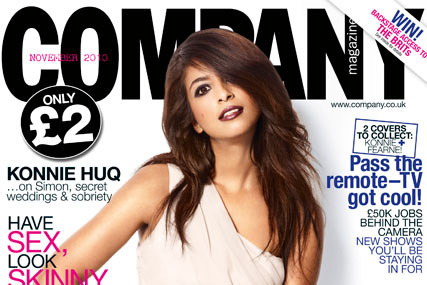 Starting in November's edition, out now, Company will incorporate promotional coverage of the awards until April 2011's Music issue, which will contain exclusive coverage from the event held at the O2 Arena on 15 February.
Each issue from now to March 2011 will include competitions, features and news relating to The Brits, and a Rising Star feature that focuses on contenders for the Critics Choice Award.
Company is also holding a competition for readers who can win the chance to become part of the 1,000 strong voting panel, called The Brits 2011 Voting Academy. It will consist of individuals chosen for their music knowledge such as concert promoters and managers.
The competition winner will attend the event as a backstage reporter for the magazine and its website, www.company.co.uk.
The editorial coverage does not affect Mastercard's long-running Brits contract as the awards' headline sponsor, a deal which began in 1999 and has been extended to its 15th year in 2013.
Victoria White, Company's editor, said: "We have historically championed UK artists and dedicated more editorial to music features than any other young women's title on the market. Marina & The Diamonds, Ellie Goulding, Alesha Dixon, Alexandra Burke, Sugababes, Kimberly Walsh and Pixie Lott have all graced our front cover in the past 12 months."
Maggie Crowe, director of events, The Brits, said: "Company's dedication to British music is second-to-none in the monthly magazine market for young women, and their relationship with their readers via the magazine, website, as well as buzzing Facebook and Twitter activity, makes them a perfect media partner for the Awards."