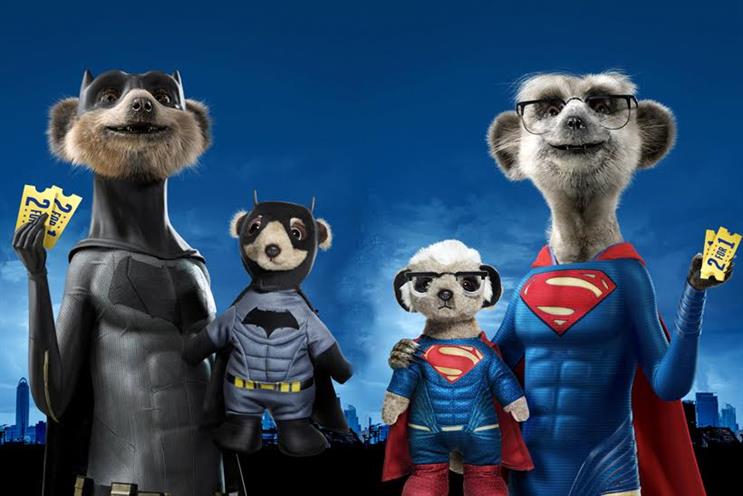 Since launching the two-for-one cinema ticket offer this time last year, the insurance comparison brand has teamed its meerkats up with Arnold Schwarzenegger and, in a more recent clutch of ads, Nicole Kidman.

Now it has hit on a way to refresh the soft toy promotion that it first launched in 2011, two years after Aleksandr the meerkat made his first appearance in its ads.

The choice of a meerkat Batman or Superman toy is on offer to people who buy an insurance product through Comparethemarket.com between today and 30 June.

The promotion includes a bumper two-for-one cinema deal, with the offer available on Tuesdays or Wednesdays for a whole 12 months.


Comparethemarket.com is at least the third brand to strike a marketing tie-up with forthcoming Warner Bros film Batman v Superman: Dawn of Justice.

While Jeep and Turkish Airlines feature in the film itself, Bruce Wayne and Clark Kent are unlikely to be comparing meerkats or car insurance deals.

The toy offer will be pushed with a new TV ad featuring Alexsandr and Sergei hit by car problems on a trip to the cinema, leading them to "look to their inner super-fan determination to race through the streets" to make it there on time.

Mark Vile, marketing director at Comparethemarket.com, said: "Since launching Meerkat Movies in March last year, we have reached over a million members, helping people to enjoy the magic of the movies for less.
"We're passionate about rewarding loyalty and believe our new partnership with Warner Bros. Pictures gives us the opportunity to build on our already successful rewards programme by introducing our most heroic offer yet, fusing Meerkat Movies with customers' previous love of the character toys.