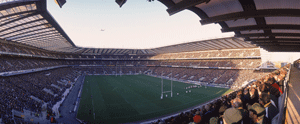 Compass has been working for Twickenham for more than 20 years, while its contract with the RFU will begin in January 2010 and will see the company provide catering for all of the association's 250 staff.
The awarding of these two new contracts will amount to £350,000 of annual revenue and it follows the announcement earlier in the year that Compass' Sport, Leisure and Hospitality arm has a new multi-million pound 15-year deal
RFU business operations director Paul Vaughan said: "It is great to see that Compass has extended its relationship at Twickenham through two very different brands, servicing RFU staff through Eurest Services and catering in the new Virgin Active Classic health club restaurant through Restaurant Associates."
Meanwhile Restaurant Associates, Compass' executive dining business, has extended its contract with Virgin Active and now provides catering in a gym located in the Stadium's new South Stand development. The gym overlooking the world-famous grounds is Restaurant Associates' fifteenth site with Virgin Active.
To leave a comment register and let us know your thoughts.