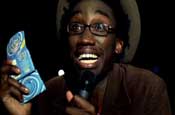 The Advertising Standards Authority decided to act after the number of complaints against the ad had reached 85 by Wednesday afternoon.
The JWT ad for the Cadbury Schweppes brand features a Jamaican comedian on stage complaining about the blandness of chewing gum.
But his opinion changes when he is handed a pack of Trident and he begins a personal crusade with the slogan: "Mastication for the nation."
Mike McKenna, the JWT senior creative who helped produce the film, said: "We would never have written anything we thought was going to upset people."
He said the film was inspired by dub poetry exemplified by such performers as the poet Benjamin Zephaniah.
"The actor certainly never thought it had racist overtones," McKenna added.
"I would never have set out to upset anybody. I have good friends who are non-white."