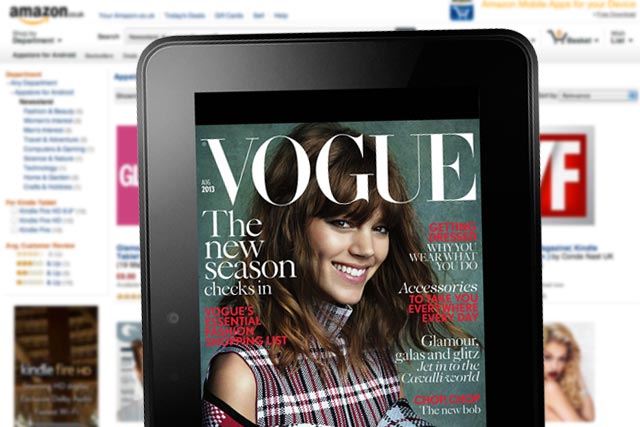 The partnerhship between the world's biggest e-tailer and the publisher of Vogue, Glamour, GQ and Wired promises to simplify the laborious and costly process of getting both print and digital magazines to readers.

Amazon will allow consumers to purchase, manage and renew their magazine subscriptions under a new "all access" plan for both print and digital editions using their Amazon account. Subscribers can still go to Condé Nast directly or to its other partners including Apple.
Publisher keeps subscriber data
But in a signficant step-change from Apple's Newsstand data policy, Amazon will pass on all subscriber details directly to the publisher. Ever since Apple launched Newsstand as a a one-stop shop for newspaper and magazine publishers to sell their digital products in June 2011, its 30% cut of every subscription sold and insistence on keeping hold of all subscribers' details has been a major bone of contention.
Apple's refusal to be more flexible with publishers - and offer the kind of partnership Amazon has now secured with Condé Nast - led to the Financial Times' foray into developing its HTML5 app, which bypasses Newsstands shackles altogether.
In yesterday's announcement, it was also revealed digital editions bought and managed through Amazon will be made available on the retailer's Kindle devices, iOS and Android smartphones and tablets. It has the potential to generate new readers to Condé Nast through Amazon's 200 million customer accounts worldwide, by harnessing the site's much lauded recommendation ecosystem.
Bob Sauerberg, president of Condé Nast, told Reuters: "We are using the partnership with Amazon to make purchasing and renewing subscriptions as easy as humanly possible. We want to go from selling print subscriptions to selling access to all our content."
Print fulfillment included
It should be noted the new deal with Condé Nast is also said to include subscriptions for, and the distribution of, print versions of the magazines as well as, drawing on another of Amazon's proven strengths, being a global fulfillment house for thousands of physical products.
Further details around the deal have yet to be revealed, but with Amazon's chief executive Jeff Bezos having just invested $250 million in buying the Washington Post, developments will be followed closely. A raft of deals with magazine and newspaper publishers are likely to follow.

An introductory rate of $6 is being offered for print and digital versions of Vogue, Glamour, Bon Appetit, Lucky, Golf Digest, Vanity Fair and Wired. Conde Nast is planning to introduce 11 other titles later this year.
Helps propel transition from print to digital
Natalie Cummins, managing director of Optimedia, believes the partnership represents "another fine string to Amazon Kindle's bow", and will serve as an additional incentive ahead of sales this Christmas.

Cummins also notes the move follows recent figures from Conde Nast that revealed that, despite 460% growth, digital only accounts for 3.8% of its total readership. It remains a long way from offseting any losses incurred by the print declines, as illustrated in last week's ABCs.

Cummins says: "To encourage this transition of consumers from print to digital, we need to challenge clients to think about how they can adapt what would traditionally be a full-page static ad into something more dynamic and more engaging for the emerging and rapidly growing digital magazine format."
Follow @DurraniMix