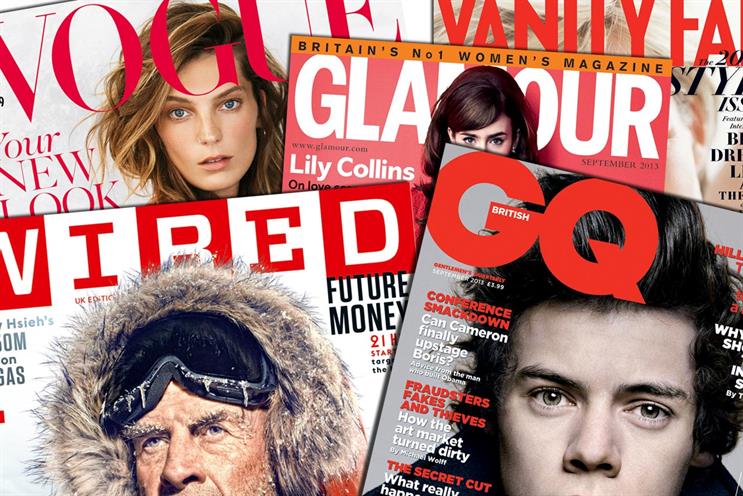 The leading glossy magazine publisher is calling its new research the first known like-for-like data for print and digital tablet reader relationships.
It includes a reading behaviour study of 6,965 subscribers to Vogue, GQ, Wired, Vanity Fair and Glamour, who read a Condé Nast title in print or digital - iPad, Android - format, or who are cross-platform readers (accessing print and digital editions).
The Condé Nast research, verified by YouGov, concludes that whether people consume magazines in print or in digital, both mediums register similarly high dwell times.
Additionally, print and digital magazines were found to be read in a very similar way – eg, front to back – irrespective of format.
Nicholas Coleridge, president of Condé Nast International and managing director of Condé Nast Britain, told Campaign: "This research debunks for all time the assumption that people read print and digital magazines in different ways, and for different periods of time.
"I'm very proud that Condé Nast is the media company to have taken the initiative to invest in this major piece of research, which is of intense importance to clients and media commentators alike. The ABC has been particularly keen to see third party verified data on this subject and scale, and now we have it. End of argument. We can move on."
Print and Digital Reader Research

Dwell Time
Print
122 mins
Digital
116 mins
Print + Digital
162 mins
Print
131 mins
Digital
110 mins
Print + Digital
176 mins
Print
137 mins
Digital
142 mins
Print + Digital
158 mins
Print
169 mins
Digital
154 mins
Print + Digital
188 mins
Print
117 mins
Digital
104 mins
Print + Digital
141 mins
The findings come ahead of tomorrow's official Audit Bureau of Circulations for the first six months of 2013, which is expected to highlight widespread falls in print newsstand sales.
Condé Nast has been a vocal advocate of having digital editions included within the circulation data. Coleridge said in Feburary, "why the ABC has been so slow to embrace the digital revolution is one of the mysteries of the day".
The publisher has already started releasing monthly data provided by Site Catalyst, analysing user engagement on tablet editions.

Albert Read, deputy managing director of Condé Nast Britain, said: "Yet again Condé Nast leads the way in industry development and evolution in this digital age. This research confirms there is no material difference whatsoever in reader profile or behaviour across print and digital."