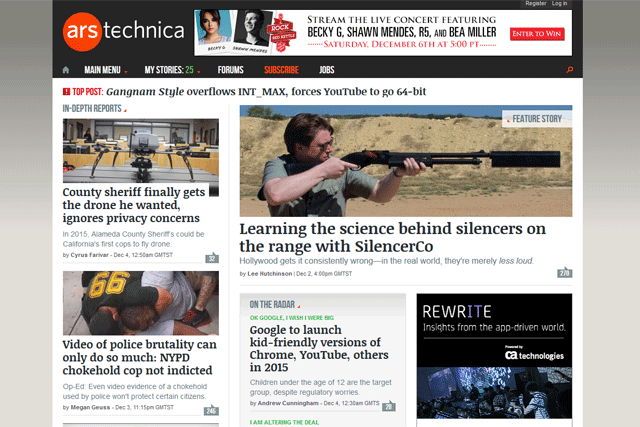 This is Condé Nast Britain's first launch since Wired, but the publisher insists that the two websites are quite different. Wired is all about "the future of technology" while Ars Technica is "the most trusted source of insights into what is at stake today in the world of technology."
Founded in 1998 by editor-in-chief Ken Fisher, Ars Technica is a must-read for technology freaks everywhere, appealing to science students and academics, to chief technology officers and business decision-makers, or BDMs.
Those without a science degree may struggle to keep up as the site makes few concessions to non-specialists.
Even so, it is a hit in the US, last month receiving 75 million page views and 12 million unique visitors. The UK accounts for 12% of its traffic, with nearly 700,000 unique visitors, 80% of whom visit every day, giving the UK version that launches next spring a solid base.
Condé Nast swooped on the site in 2008, prizing ownership from Ken Fisher's hands for $25m as it looked to boost its technology offer alongside Reddit and Wired.
Fisher flew into the UK last week to discuss the launch before an audience of media buyers and media owners. He tells Campaign that Ars Technica's model of in-depth sponsored features will be a hit in the UK.

He said: "I'll be interested to see how it will happen here, I think there is a bigger opportunity here for native than there is even in the States, because I don't see anything like this being done here."
The US site runs features sponsored by brands, written as editorial by its own journalists. Porsche commissioned a series of pieces on fuel efficiency as it sought to build awareness of its Cayenne diesel model.
IBM used native advertising on the site to promote its Smarter Planet strategy, with the site curating articles on the issue and highlighting them.
Part of the appeal for brands is that these sponsored features sit in the news stream and are as good as the editorial.
Some advertisers struggle with giving up control over a message they have to pay for, Fisher admitted. He said: "That was the sad reality of a couple of campaigns that cost me a loss of sleep."
Our challenge is persuading people that they can get much better results if they just let us build the programme instead.
"There are some CMOs out there who don't want to spend money unless they can just dictate what is going to get written."

Fisher said annual US revenues are in "low eight figures", suggesting $11 million to $12 million, but he is dubious about the real value of about programmatic buying, which he says is a very small part of Ars Technica revenues.
He said: "Programmatic is like shooting a shotgun at a barrel of fish. You might hit some fish but in the end you're probably not going to want to eat them after you do," conceding it can be good for small publishers.
One significant advertising innovation Fisher and his team created is the "Accelerator". It predicts when a story on the site is going to go viral, then lets brands who have signed up for the scheme advertise around it.
The service has been expanded to Wired.com in the US and will be introduced on the UK's version of Ars Technica, with a view to rolling it out to other sites in the UK.
Nate Lanxon, Wired.co.uk's editor, will oversee the UK launch as editor in chief. Advertising will be handled by Nicola Bartlett, head of trading for Condé Nast Digital.
It will be a vehicle for using native content to reach an upmarket audience of polymaths and movers and shakers in the tech business.